Reviews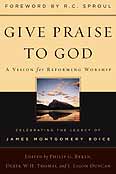 Give Praise to God: A Vision for Reforming Worship
Philip Graham Ryken, Derek W. H. Thomas, and J. Ligon Duncan. Eds.
Reviewed by: Larry Wilson
Date posted: 06/19/2005
Give Praise to God: A Vision for Reforming Worship, edited by Philip Graham Ryken, Derek W. H. Thomas, and J. Ligon Duncan III. Published by P&R, 2003. Hardback, 576 pages, list price $29.99. Reviewed by Pastor Larry Wilson.
Give Praise to God is an outstanding collection of essays on worship to celebrate the legacy of James Montgomery Boice. An impressive list of authors contribute, including the three editors, Edmund P. Clowney, William Edgar, W. Robert Godfrey, Hughes Oliphant Old, and Michael S. Horton.
The book consists of four parts: (1) the Bible and worship, (2) the elements of biblical worship, (3) preparing for biblical worship, and (4) worship, history, and culture. Part 1 includes three excellent essays on the regulative principle of worship. It also includes a fine essay on the dynamic working of the Holy Spirit in corporate worship. Part 2 focuses on the public reading of the Word, the preaching of the Word (two outstanding essays), the sacraments, public prayer, and congregational singing. This book advocates "inclusive psalmody" - singing all 150 psalms as well as new covenant hymns and spiritual songs. Part 3 includes excellent chapters on secret worship, family worship, worship in all of life, and the emotions in worship. Part 4 puts all these principles into historical and cultural perspective.
Give Praise to God is a readable, positive challenge both to "traditional" and "contemporary" worship styles. It summons us to give fresh expression to those biblically Reformed principles of worship that we have inherited. The book is practical, making concrete suggestions for fleshing out Reformed principles in our times. It's pastoral, addressing such problems as assurance of salvation and calling for a deep piety. The authors frequently give testimonies from their own spiritual pilgrimages. They show great sensitivity to the testimony of church history, as well as keen insight into today's challenges and pressures. Each author hammers home the biblical expectation that our exalted Lord himself supernaturally and effectually works through his outward and ordinary means of grace - the Word, the sacraments, and prayer.
If you can read just one book on worship, make it Give Praise to God!