Reviews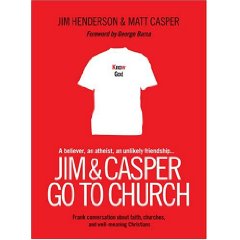 Jim and Casper Go to Church
Jim Henderson and Matt Casper
Reviewed by: Danny E. Olinger
Date posted: 08/17/2008
Jim and Casper Go to Church, by Jim Henderson and Matt Casper. Published by Barna Publications, 2007. Hardback, 208 pages, list price $16.99. Reviewed by editor Danny E. Olinger.
Evangelical pastor Jim Henderson's Jim and Casper Go to Church presents a new approach to "doing" church. What makes this book unique is that Henderson's coauthor, Matt Casper, is an atheist whom Henderson hired to attend churches with him. Henderson's goal in hiring Casper as to keep things "real" explaining what was attractive and unattractive to an unbeliever.
The two set out to attend twelve different evangelical churches across America. They find marketing instead of preaching, self-promotion instead of service, therapy instead of self-denial, and the increasing dependence upon technology in worship. Image is all-important, and the creed of most, if articulated, would be "Never be boring." But what distresses the authors the most is the lack of social action from churches, which is Casper's definition of keeping things "real."
What they experience at the churches is discouraging, to be sure, but what they prescribe to correct the situation is even worse. Ever the atheist, Casper mocks the sovereignty of God and prayer, heaven and hell, and any emphasis upon giving one's life to Christ. Being a member of a band, Casper provides Henderson with his take on the worship music at each church and provides the most notable line of the book: "Light shows, fog machines, worship bands, offering plates is that what Jesus intended? Is this what Jesus told you guys to do?"
Henderson's progressive ideal would be to abolish church as we know it. Stop everything modern and authoritative (weekly services, preaching, recognized leaders) and encourage everything postmodern (stop proclaiming and alienating people with claims of truth). He insists that Jesus never intended for his followers to "do church," but accepts the church as a necessary evil and encourages being creative. Pay nonbelievers to attend your church and tell you how to make your church more attractive to outsiders.
Henderson also opposes apologetics. Defending the faith only alienates people. Rather, the church should promote "defending the space," which amounts to letting people believe and say whatever they want to, as long as you have a relationship with them.
Sitting in the back of churches with their laptops taking notes, Henderson and Casper are as adolescent as the churches they visit. The way the book is written suggests "openness," but both authors have very closed systems. Casper cannot envision another world, and if there is a heaven, then a person's good works must be the ticket to it. Henderson cannot abide by Scripture's teaching concerning the church. Everything to him is predicated on an individualism that disregards not only corporate responsibility, but also the fact that Jesus has given the keys of the kingdom of heaven to his church.
The authors did not visit an OP congregation. If they did, they would undoubtedly find much to criticize—a belief in heaven and hell, a defense of the truth and the spirituality of the church, the centrality of the preaching of the Word, singing of psalms and hymns, and members who love one another and have vowed to submit to the government and discipline of the church.