Reviews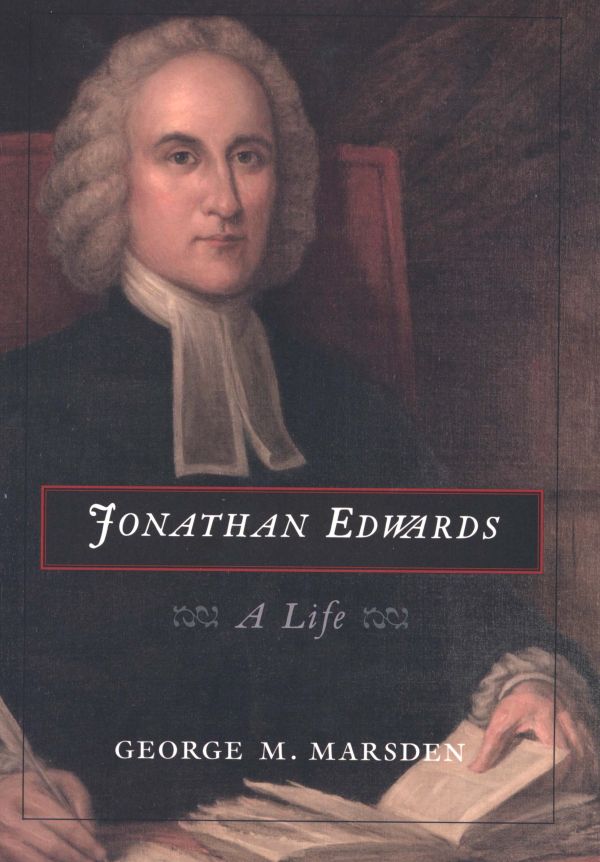 Jonathan Edwards: A Life
George M. Marsden
Reviewed by: David K. Thompson
Date posted: 09/11/2005
Jonathan Edwards: A Life, by George M. Marsden. Published by Yale University Press, 2003. Hardback, 615 pages, list price $35.00. Reviewed by David K. Thompson, chairman of the Committee for the Historian.
In the 1920s, it was generally assumed that everything that could be said about the Puritans had been said, yet the young scholar Perry Miller proceeded to redefine American Puritanism for subsequent scholarship.
If an abundance of material about the American Puritans was available in the 1920s, then surely an overabundance of material about them, and especially about Jonathan Edwards, is available today. So why would anyone write yet another book about Edwards? What has not been said about him? Hasn't Edwards been done? These are common-sense questions, says George Marsden in the preface to his latest work, Jonathan Edwards: A Life.
Perhaps the answers to such questions are found in the intricacy of Edwards the man and of the times in which he lived. He was born on the threshold of massive historical change, and "saw the immense challenges to a rigorous God-centeredness in the modern era." This supposition speaks to the complexities and tensions confronting believers in the eighteenth century generally and Edwards specifically. He was a staunch Calvinist, yet a fore-runner of the modern Evangelical movement; aristocratically British, yet part of a uniquely American aristocracy; not beholden to the crass rationalism of the early Enlightenment, yet aware of it, and, to a degree, informed by it. He was, Marsden argues, "a thoroughly eighteenth-century figure who used many of the categories and assumptions of his era to criticize its trends." Despite the pressures of the age, Edwards refused to deviate from his foundational convictions: God is sovereign, and one's relationship to that sovereign God is of supreme importance in one's life.
Marsden captures this complexity better than any previous biographer. Edwards stands as one of the premier philosopher-theologians in American history. That could make his biography inaccessible to all but Edwards specialists. But Marsden does not focus on philosophy or theology, though he loses sight of neither. He simply tells the story of Edwards's life - as author, preacher, pastor, missionary, politician, academic, loving father, and caring husband. Throughout, Edwards is seen as one who could interact with the old and the new, and at the same time remain faithful to his Christian heritage. He was a man "who spent his whole life preparing to die . . . Whatever his failings, he attempted every day to see Christ's love in all things, to walk according to God's precepts, and to give up attachments to worldly pleasures in anticipation of that closer spiritual union that death would bring." Marsden humanizes Edwards, achieving his goal "to make Edwards intelligible to widely diverse audiences by first attempting to depict him in his own time and in his own terms."
This is not to say that Marsden has lost sight of Edwards the giant by immersing him in the details and trivialities of life - just the opposite is true. Marsden weaves those threads together into a cohesive biographical fabric that is both awe-inspiring and discerning. As a cultural historian, he ably relates Edwards to broader themes of American religious history, showing his tremendous importance in both the history of America and the history of the American church.
Thankfully, Marsden, like Miller, was not put off by the "commonsense questions" about further research on Edwards. Yes, Marsden has stepped onto an already crowded stage. And, like Miller, Marsden has given us a superb performance, one that resets the standard of Edwards research. But, unlike Miller, who tackled the Puritans at the outset of his academic career, Marsden has stepped onto the stage after a lifetime of careful study and disciplined research. He brings this work to us as a well-established vocalist of American religious history and presents for us a composition that will satisfy the lay reader and the scholar alike.