Reviews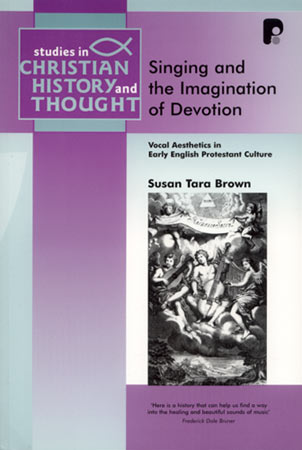 Singing and the Imagination of Devotion: Vocal Aesthetics in Early English Protestant Culture
Susan Tara Brown
Reviewed by: Peter H. Sim
Date posted: 04/19/2009
Singing and the Imagination of Devotion: Vocal Aesthetics in Early English Protestant Culture, by Susan Tara Brown. Published by Paternoster, 2008. Paperback, 142 pages, list price $33.99 (available at www.eisenbrauns.com). Reviewed by OP pastor Peter H. Sim.
Given to God's children as a foretaste of the everlasting glory of heaven, singing has been practiced since the dawn of creation and will continue into eternity. By delving into the spiritual, sociological, and psychological history of singing in early modern Protestant England, Brown challenges today's Christian to comprehend, appreciate, and even cherish the Christian's gift of singing.
In this scholarly work, Brown draws from a plethora of Puritan and Anglican sources, primarily dealing with the concept of singing in a sacred context. First, she examines the fundamental relationship between singing and the Word of God. Early modern England was a country hungry for the Word and daily piety. The dramatic rise of the Psalter attests to this. Small, portable, and written in the common tongue, the Psalter enabled English Protestants to easily incorporate God's Word into their daily life.
Brown goes on to identify a move in biblical interpretation toward understanding the Old Testament (the type) as fulfilled in the New Testament (the antitype). With this typological interpretation, the Christian is directly involved in the stories of the Bible, being invited to personally participate in the stories of redemptive history. According to Brown, the English divines taught that believers can use their voice to more fully participate in the drama of redemption, in both corporate and private worship. Therefore, when singing psalms, the believer is to think about and "put on" the thoughts and emotions of the inspired writer. In this way, singing powerfully connects present-day believers to the drama of salvation history and encourages consistency between what is sung from their mouth and felt in their heart.
Brown then demonstrates the unifying power of singing. Just as the body employs different functions, so does the soul. Singing unites the body and soul to carry out man's chief end, which is to glorify God and enjoy him forever. "What a soul loves, it grows to resemble." Directing the Christian to love the God who deserves our highest affection, and to relish the joy of heavenly fellowship with him, singing provides a pleasure that only the believer can fully enjoy.
Finally, Brown takes us through the gates of paradise. When the saints from the four corners of the earth gather together each week on the Lord's Day, we are invited to participate in that glorious and blissful activity of the heavenly host of saints and angels: to praise our God in joyful communion with him and with our brethren. I would recommend this book because it encourages the believer to "be filled with the Spirit, speaking to one another in psalms and hymns and spiritual songs, singing and making melody with your heart to the Lord" (Eph. 5:18–19 NASB).