Reviews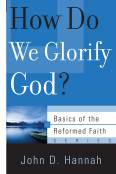 Basics of the Reformed Faith
various authors
Reviewed by: James W. Scott
Date posted: 05/24/2009
Basics of the Reformed Faith. A series of booklets published by P&R Publishing. Paperback, 32–64 pages, list price $3.50 to $4.99 each. Reviewed by New Horizons managing editor James W. Scott.
P&R Publishing has issued an attractive series of doctrinal booklets (about 5 3/8 by 8 1/2 inches in size) that churches can use effectively to introduce people to the distinctive teachings of the Reformed faith.
These booklets are neither superficial tracts nor ponderous tomes. They are serious, yet readable. They are just the thing to give to those who are inquiring about specific Reformed doctrines and to those who want to gain a deeper insight into them. Every church would do well to have a supply in their literature rack or library. However, those who want a more comprehensive view of Reformed theology would do well to look elsewhere, because even at discount prices the cost of all these booklets adds up fast.
The following booklets are currently available:
• How Do We Glorify God? (by John D. Hannah)
• How Our Children Come to Faith (by Stephen Smallman)
• What Are Election and Predestination? (by Richard D. Phillips)
• What Is a Reformed Church? (by Stephen Smallman)
• What Is a True Calvinist? (by Philip Graham Ryken)
• What Is Biblical Preaching? (by Eric J. Alexander)
• What Is Justification by Faith Alone? (by J. V. Fesko)
• What Is Perseverance of the Saints? (by Michael A. Milton)
• What Is Providence? (by Derek W. H. Thomas)
• What Is Spiritual Warfare? (by Stanley D. Gale)
• What Is the Christian Worldview? (by Philip Graham Ryken)
• What Is the Lord's Supper? (by Richard D. Phillips)
• What Is True Conversion? (by Stephen Smallman)
• Why Do We Baptize Infants? (by Bryan Chapell)