Reviews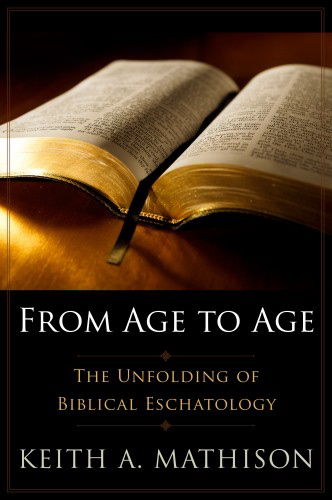 From Age to Age: The Unfolding of Biblical Eschatology
Keith A. Mathison
Reviewed by: Eric Watkins
Date posted: 01/24/2010
From Age to Age: The Unfolding of Biblical Eschatology, by Keith A. Mathison. Published by P&R, 2009. Hardback, 812 pages, list price $39.99. Reviewed by OP minister Eric Watkins.
This book by Keith Mathison is an overview of the Bible with particular sensitivity to the way in which each biblical book contributes to the unfolding of God's plan to bring about the promise of the kingdom. The books of the Bible are arranged chronologically and are given particular treatment. The general introductory matters, such as authorship, date, and context, are considered in much the same way that we would expect to find them in a conservative Bible survey. Each biblical book is examined to see how Christ fulfills the major covenantal themes in it, and how it contributes to the unfolding of biblical eschatology.
Mathison defines eschatology in a way that is both Reformed and covenantal, while gently correcting some of the popular evangelical misunderstandings of it. He wrestles with the material that Geerhardus Vos and others have contributed to the understanding of Reformed eschatology. The book is remarkably well researched, and the bibliography is impressively current. The brief treatment of intertestamental eschatology is particularly interesting, as it helps to explain the popular messianic expectations at the time of Christ's coming.
From Age to Age should not be caricatured as another academic work that would be unprofitable to those without seminary training (though its length may be intimidating at first!). While it does address some of the scholarly questions raised by critical research and careful exegesis, it does so in a quick, manageable way. Hebrew and Greek words are rarely used, and when they are, they are translated. Overall, the book is fairly easy to read and often evidences a devotional warmth. While it focuses on the unfolding of eschatology, there is also an appreciation for why each book is important to the Christian life.
The books of the Old Testament are viewed as setting the stage for the coming of the king and his kingdom. Christ's death and resurrection are seen as the inauguration of God's kingdom, and while its consummation may be future, its presence is a fixed reality. Mathison repeatedly articulates that God's kingdom is not merely future, but present in the life of the believer by way of union with Christ and the ministry of the Spirit. This "already/not-yet" view of the kingdom is helpfully juxtaposed to the way in which God's kingdom continues to be manifest and enjoyed, even in the midst of the sufferings of God's people.
If you are looking for a general introduction to biblical eschatology from a Reformed perspective, or even a survey of the books of the Bible with a general sensitivity to the progressive unfolding of God's covenant and kingdom, From Age to Age would be an excellent choice.
Copyright © 2020, The Orthodox Presbyterian Church. All Rights Reserved.