Reviews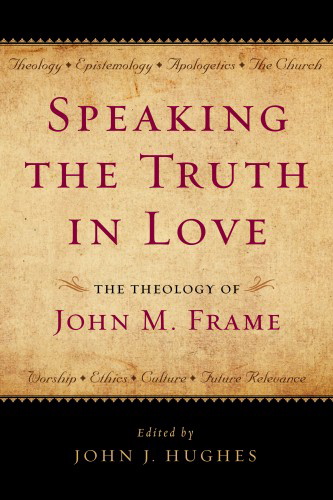 Speaking the Truth in Love: The Theology of John M. Frame
John J. Hughes, Ed.
Reviewed by: Jeffrey C. Waddington
Date posted: 10/17/2010
Speaking the Truth in Love: The Theology of John M. Frame, edited by John J. Hughes. Published by P&R Publishing, 2009. Hardback, 1,232 pages, list price $59.99. Reviewed by OP minister Jeffrey C. Waddington.
There are Festschrifts and then there are Festschrifts! A Festschrift is a book written to celebrate the life and achievements of a scholar, and this volume is certainly no exception. John Frame has contributed to the life of the church through his teaching and writing ministry approaching five decades now. Beginning his teaching career in systematic theology and apologetics at Westminster Theological Seminary in Philadelphia, Frame then moved to the new Westminster Seminary California in the early 1980s, and subsequently moved to Reformed Theological Seminary in Orlando, Florida, where he currently teaches.
Speaking the Truth in Love: The Theology of John M. Frame is a unique Festscrift for at least two reasons. First, Professor Frame was personally involved in its production. Second, Speaking the Truth in Love may well be the heftiest tribute ever written. Coming in at 1,232 pages, this tome is a virtual library of exposition, explanation, exploration, clarification, appreciation, and evaluation on all things John Frame. The list of contributors alone is amazing. This volume is a testament to the fact that Frame's influence has extended far beyond the Reformed circles in which he has taught.
Speaking the Truth in Love is divided into eight sections: introduction, theology, apologetics, the church, worship, ethics, culture, and future relevance. Consisting of thirty-nine chapters, along with a response by Frame to some of the chapters, two appendixes, a glossary of terms, a bibliography, a list of resources, and several indexes, this is about as thorough a treatment of Frame's thought as one can find. A real strength is the exposition and explanation of Frame's "multi-perspectivalism" (or "tri-perspectivalism"). One does not have to agree with Frame's "frame" of the normative, existential, and situational perspectives on human knowing to appreciate and benefit from what is found here.
One weakness for this reviewer was the praise offered to Frame for what I take to be some of his departures from the Reformed tradition. One could arguably say that Frame has been influential beyond the confines of the Reformed community because he has departed from the Reformed consensus at points. In particular, his view of worship and the regulative principle of worship appears problematic. Frame is at his best when he enters into polemics with unbiblical positions, as he does in his critique of Open Theism in No Other God. These comments are not meant to suggest that Frame has not benefitted the church. I have greatly benefitted from his ministry, even—and perhaps especially —where I disagree with him. At the end of the day, I have to adopt the position on Frame which he himself has taken on the history of theology: yes and no. Speaking the Truth in Love will help the reader understand John Frame's contribution to the theological enterprise, and for that we ought to be grateful.