Reviews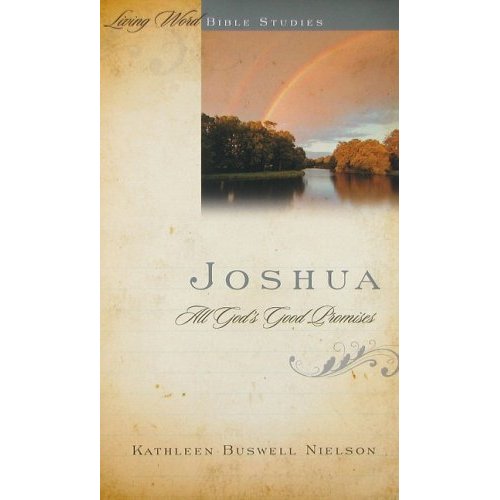 Living Word Bible Studies
Kathleen Buswell Nielson
Reviewed by: Becki Whetsel
Date posted: 11/21/2010
Living Word Bible Studies (spiral bound), by Kathleen Buswell Nielson: Joshua. Published by P&R, 2008. 142 pages, list price $12.99. Proverbs. P&R, 2007. 182 pages, $12.99. 1&2 Thessalonians. P&R, 2008. 144 pages, $12.99. Reviewed by OP member Becki Whetsel.
"As Christians, we have a new identity: we are part of the body of Christ. According to the New Testament, that body is clearly meant to live and work in local bodies, local churches. The ideal context for Bible study is within a church body—one that is reaching out in all directions to the people around it." Supporting her own words, Kathleen Buswell Nielson has written seven studies (to date) for the Living Word Bible Studies series published by P&R. These guides can be explored on one's own, but Nielson encourages her readers to depend first upon Scripture itself and second on the body of Christ, especially local church leaders, for a solid foundation to their study of God's Word. This review discusses three of Nielson's study guides: Joshua: All God's Good Promises, Proverbs: The Ways of Wisdom, and 1 & 2 Thessalonians: Living the Gospel to the End.
In each guide, Nielson explains what type of book we are studying—a story, a collection of wise sayings, a letter—and helps us see how each style of writing conveys the message of that book. She clearly enjoys Scripture as the written Word, and asks questions that help us understand this inspired writing.
Nielson introduces the book of Joshua by pointing back to the redemptive acts and promises of God that precede Joshua's leadership of Israel. Readers then explore the themes of God's law, his promises, and rest in the Lord as each comes to the forefront in Joshua's life and in the people of Israel under his leadership. We see God's displays of mercy and judgment, and Nielson shows parallels to New Testament believers and the church. Readers learn that Israel's inheritance of the Promised Land is a result of God's work alone, and that it pictures in a miniature and temporary way the victorious inheritance through Christ that we now possess as God's people.
Proverbs is a difficult book to outline, but Nielson groups material together under themes to organize this collection of poetry, metaphor, and sayings. Her introduction points to the foundation of true wisdom as a right relationship with our covenant God, and built upon this are the main topics of words, work, marriage and family, money, relationships, and discipline. I was particularly impressed with the refreshing explanation of the "excellent wife" in Proverbs 31. Nielson argues that this portrait sums up the entire book of Proverbs. "Here is what we should all be, in the largest sense, as the Bride of Christ, in whom are hidden all the treasures of wisdom and knowledge" (p. 170).
In 1 & 2 Thessalonians, we study Paul's loving relationship with the Thessalonians. Nielson points out the message of repentance and places an emphasis on the word of the Lord manifested in saints' words and deeds. Both letters exhort us to live our lives filled with the hope of the resurrection and the coming day of the Lord.
These guides are written in a question-and-answer format, and there are no "teacher's editions." Nielson encourages her readers to look for the answers in Scripture first, because "the answers are in the biblical text, and we desperately need to learn how to dig in and find them." She has a Reformed view of Scripture, and her use of New Testament passages in the studies of Joshua and Proverbs displays her clear understanding of redemptive history.