Reviews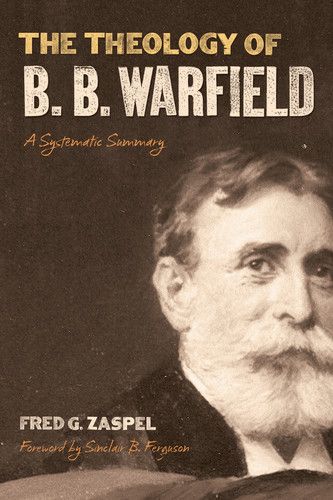 The Theology of B. B. Warfield: A Systematic Summary
Fred G. Zaspel
Reviewed by: Arthur J. Fox
Date posted: 12/26/2010
The Theology of B. B. Warfield: A Systematic Summary, by Fred G. Zaspel. Published by Crossway Books, 2010. Hardback, 624 pages, list price $40.00. Reviewed by OP pastor Arthur J. Fox.
The Theology of B. B. Warfield is a book that one can hardly believe has been written. What the author seeks to do is condense the voluminous writings of Benjamin B. Warfield into one book and include in it a brief review of his life and career. To do this, he has used the ten-volume set, The Works of Benjamin B. Warfield, the two-volume Selected Shorter Works of Benjamin B. Warfield, several books of his sermons, many of his letters, and the notes of his students. As Sinclair Ferguson notes in his foreword, Warfield could have written a systematic theology of his own, but he was content simply to defend and expound the Reformed faith, rather than try to improve on the work of his mentor, Charles Hodge.
Zaspel tells us that Warfield started out as a pastor, taught for a brief time at Western Theological Seminary in Pittsburgh, Pennsylvania, and then began his long tenure at Princeton Seminary, where he taught until the day of his death in 1921. Many acknowledge him to be the greatest theologian ever to teach at Princeton.
In this book, the author summarizes Warfield's writings in the areas of apologetics (which he saw as the branch of theology that establishes the truth claims of the Bible) and systematic theology (which he believed ought to proclaim the truth of the gospel, so as to move men to "love God, trust in Christ and hold him precious, experience the Spirit ministered blessings meant for him" [p. 93]). He dedicated his life to the presentation and defense of Christianity as the revealed religion given to us by God in the Scriptures.
Those who believe that Warfield was focused solely on the doctrine of Scripture will find in this book a summary of his robust presentations and defense of such doctrines as the Trinity, the deity of Christ, the work of the Holy Spirit (which he believed was the theme of the entire Westminster Confession of Faith), grace, the church, and eschatology.
Zaspel effectively demonstrates that Warfield was not novel in his teaching and writing, for like his predecessors at Princeton he simply taught what the Scriptures revealed and found himself continuing the work begun in the Reformation. To see this, one need only read the Warfield classic, "A Brief and Untechnical Statement of the Reformed Faith," which Zaspel includes in the appendix.
Every believer needs to understand basic biblical doctrine and live on the basis of it. If you want to grow as a Christian, you could well find a great deal of help in this book.