Reviews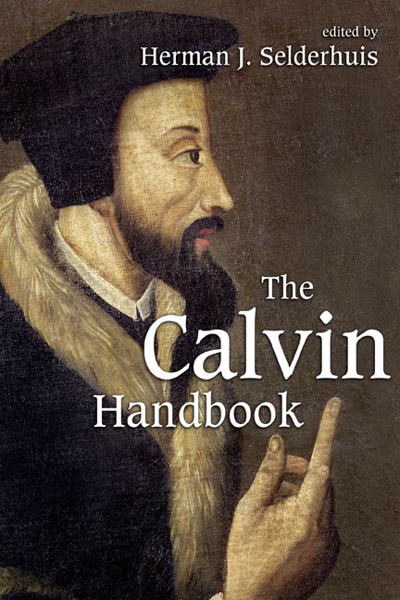 The Calvin Handbook
Herman J. Selderhuis
Reviewed by: Jack W. Sawyer
Date posted: 02/27/2011
The Calvin Handbook, edited by Herman J. Selderhuis. Published by Eerdmans, 2009. Paperback, 585 pages, list price $35.00. Reviewed by OP pastor Jack W. Sawyer.
The Calvin Handbook is a comprehensive, introductory overview of the life and work of John Calvin. Edited by Calvin scholar Herman Selderhuis, the volume is intended to stimulate further Calvin research, but especially to provide information to the nonscholarly student of Calvin.
When asked by his Lutheran pastor to describe the witch that had been seen flying around his house, a sixteenth-century farmer said it had looked suspiciously like Calvin. So begins the section of essays on "Orientation." Pictures of Calvin range from the merciless, egotistical, and revolutionary heretic to the great reformer and hero of the faith. Calvin was often exposed to enmity, and thus to loss, loneliness, fear, and sadness. Selderhuis concludes, "There is more flesh and blood, more heart and soul in this man than his statue in the wall of Geneva would make one expect."
Section two introduces the "Person" of Calvin. It treats his life and ministry from France and Basel, through Geneva, Strasbourg, and finally Geneva again. Also dealt with are Calvin's esteem for Luther, his friendship with Melanchthon, and his polemic against Lutherans, whom Calvin insisted should "not be called disciples, but merely mimics, indeed monkeys." The influence of Calvin is examined through his relationships with key players in the Reformation and his long disputation with the Roman Church.
Section three on "Work" presents Calvin's various types of writings: sermons, commentaries, tracts and treatises, catechisms, letters, and the Institutes. In addition, attention is given to the great themes of his theology. Of ongoing significance in our own circles is the rehearsal of key structures in Calvin's theology, such as the believer's communion with Christ through faith (and the consequent double grace of regeneration and justification) and a discussion of his concept of divine accommodation. Also treated are exegesis and doctrine, Word and Spirit, the simplicity of the gospel, and Calvin's view that "all exegesis should exhibit the quality of brevity."
The concluding section, "Influence and Reception," introduces such wide-ranging topics as the effect of Calvin's legal training on his view of natural law, the two kingdoms of church and state, and the right of resistance. Liturgy, preaching, singing, piety and prayer, arts and science, catechesis, and education are also treated.
It is encouraging to find an Orthodox Presbyterian contribution in the essay on "Calvin and Reformed Orthodoxy." The notion of Calvin versus the Calvinists is reassessed, along with the quest for the central dogma in Calvin's theology. Faith and assurance, covenant theology, the covenant of redemption, and the active and passive obedience of Christ are helpfully introduced.
The editor and his colleagues more than amply fulfill their stated purpose that "anyone who wants to study Calvin will find sufficient material for the beginning of such a study in this handbook." It is highly recommended.