Reviews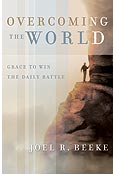 Overcoming the World: Grace to Win the Daily Battle
Joel R. Beeke
Reviewed by: Brian De Jong
Date posted: 12/04/2005
Overcoming the World: Grace to Win the Daily Battle, by Joel R. Beeke. Published by P&R, 2005. Paperback, 202 pages, list price $12.99. Reviewed by OP pastor Brian De Jong.
In this much needed volume, Overcoming the World, Joel Beeke discusses personal piety and scriptural holiness. As our secular and sensual culture seeks to drive the church into ever greater depths of compromise, Beeke takes a stand against worldliness and invites the reader to do the same. While this book will not be the most popular one published this year, it may be among the more important.
Beeke divides his work into four parts. The first is entitled "Overcoming the World by Faith." It is taken from several lectures delivered at the Metropolitan Tabernacle School of Theology in 2002. This is perhaps the weakest section of the book, providing an unfortunately slow start. The reader might wish that Beeke had more vigorously employed his exegetical skills on the many biblical passages about overcoming the world.
The second section is an informative historical survey entitled "Overcoming the World through Piety: Calvin's Answer to Worldliness." Here is a fine piece of historical theology, with a pastoral emphasis. Beeke understands not only Calvin's conceptual commitments, but also the great Reformer's pastoral concerns - and the interplay between the two.
The third section will sound familiar to those who have read Beeke's Banner of Truth booklet Holiness. Here again, Beeke is as brave as he is biblical, daring to call for a vibrant holiness that is more practical than theoretical.
The fourth segment is alone worth the price of the book, as it deals with "Overcoming the World in the Ministry." Ministers will find Beeke's insights both encouraging and challenging. The chapters on "Your Fight with Pride" and "Your Coping with Criticism" come from a seasoned pastor's heart and are of great practical value to younger ministers. Consider, for instance, these words: "We ministers, who are always in the public eye, are particularly prone to the sin of pride. As Richard Greenham wrote, 'The more godly a man is, and the more graces and blessings of God are upon him, the more need he hath to pray because Satan is busiest against him, and because he is readiest to be puffed up with a conceited holiness.' . . . If we think we are immune to the sin of pride, we should ask ourselves: How dependent are we on the praise of others? Are we more concerned about the reputation for godliness than about godliness itself?" (p. 137).
Beeke demonstrates a thorough acquaintance with the Puritans. And beyond that, he himself thinks and writes like a modern-day Puritan. For those who enjoy Puritan writings, this volume will be as delightful as it is convicting.