Reviews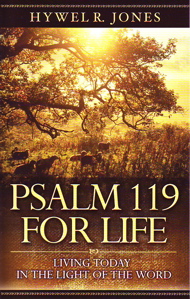 Psalm 119 for Life
Hywel R. Jones
Reviewed by: Rodney T. King
Date posted: 12/23/2012
Psalm 119 for Life, by Hywel R. Jones. Published by EP Books, 2009. Paperback, 156 pages, list price $17.95. Reviewed by OP pastor Rodney T. King.
Psalm 119 has been an intimidating passage for centuries—not just to commentators and preachers, but to believers in general. A single psalm with 176 verses on one theme! It is no wonder that Augustine skipped this psalm when he first preached through the Psalms, citing its great depth (to which he believed he could not do justice). Yet the problem is not a wealth of theological jargon, but a wealth of plain speech. How do you deal with a passage that is divided into twenty-two stanzas, one for each letter of the Hebrew alphabet in order, with each of the eight verses of each stanza beginning with the same letter, and which uses a synonym for the law of God in virtually every verse, doing so with beauty and without empty repetitions? How do you describe the law of God at such length, without laying a foundation for legalism?
Hywel Jones, professor at Westminster Seminary California, has provided an excellent tool for us all to use. Rather than dealing with each verse separately (as does, for example, Charles Bridges), Jones points to the themes of each section and to their progressive relation to one another. He repeatedly points to the evangelical themes of this psalm, which reach their climax in the plea of the last verse for the saving God to "seek your servant!" As stated in his introduction, the goal of this exposition is to show that "remarkable poetic skill is wedded to singular piety in order to send a message to the people of God about the Word of God and the way of the godly—in a fallen world."
Jones has attained his goal wonderfully. He draws out the theme of each stanza. He shows its relation to the various parts of that stanza, and points to its application to God's people now, as in all ages. This book displays the structure of the psalm's contents, which provides a framework for preachers to approach the psalm in sermon preparation, and also a firm lead for those who simply want to understand this part of God's Word better. The author has made an adroit use of the original language, providing sufficient leads for the scholar without frustrating the non-Hebrew reader.
There are two shortcomings in this book. The first is its brevity; the reader is left with the realization that much more could have been said. This reviewer is left with the suspicion that the author has done so on purpose, so that we will be provoked to greater study of the psalm itself. The second shortcoming is its price; we might be tempted to look for something longer and less costly. Don't. It is worth every penny.