Reviews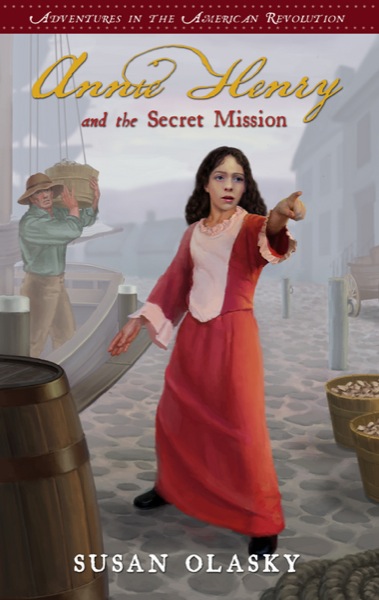 Annie Henry (Adventures in the American Revolution)
Susan Olasky
Reviewed by: Joanie Doe
Date posted: 02/03/2013
Annie Henry (Adventures in the American Revolution), by Susan Olasky. Published by P&R, 2011. Each book: paperback, 100–128 pages, list price $7.99 (four-volume set, $27.99). Reviewed by OP member Joanie Doe.
Susan Olasky, a professor at Patrick Henry College and a writer for World magazine, chose one of the daughters of Patrick Henry to be the focus of the Adventures in the American Revolution series of four novels she wrote for preteen girls. The first book begins in 1775, when Annie was ten, living in Scotchtown, near Richmond, Virginia, on a large plantation with her many siblings. In the fourth book, which ends six years later, we are introduced to the young man who later becomes her husband.
So often history books provide us with a very limited perspective. We see the story only in terms of the main players and often only in relationship to other notable historical figures. We forget about their spouses, their children, and the more mundane aspects of life.
When the first book in the series begins, Patrick Henry is not even present. Annie spies a fire that could threaten the harvest. Her warning to her future brother-in-law, as well as her labor in the field, leads to a harvest celebration.
This is just one of many incidents in which Annie finds it difficult to be ladylike and obedient to those in authority. Often Patrick Henry is away dealing with the political concerns of the Colonies. Since her mother is ill, her oversight has been left to her older sister.
Throughout all four books, Annie's living arrangements change as she goes to a city school in Williamsburg, lives with her family on the edge of the wilderness, and lives with a relative and tends to her mischievous boys. Whenever possible, Annie warns the patriots of Tory activities, even when she is putting herself in danger. Often Annie needs people like her father and stepmother to remind her of God's perspective on her life.
Students often find it difficult to become excited about history, since it seems very distant. Olasky does a good job of bringing history up close and making it personal.
Since it has been a long time since my girls were homeschooled, I asked Jackie Reynolds, a twelve-year-old from my church to review the first book in this series. She wrote: "The book was well written and provided a nice cliff-hanger at the end. In the book, Annie does struggle with disobedience and listening to those wiser than her. The historical facts in the book are very true. Overall it was a delightful book to read and brought me much enjoyment."
Olasky gives us a realistic portrayal of a difficult time in our history. In her novels, readers will see that the struggles young people have as they mature are common to us all, no matter what our circumstances may be. And just as God deals graciously with them, so he continues to deal graciously with the rest of us.