Reviews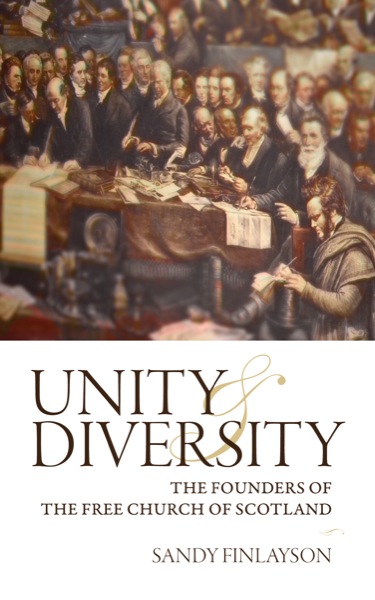 Unity and Diversity: The Founders of the Free Church of Scotland
Sandy Finlayson
Reviewed by: Michael L. Babcock
Date posted: 02/10/2013
Unity and Diversity: The Founders of the Free Church of Scotland, by Sandy Finlayson. Published by Christian Focus Publications, 2010. Paperback, 310 pages, list price $15.99. Reviewed by OP minister Michael L. Babcock.
Presbyterianism has the ability to create a strong bond of unity around its ideals and confessions, yet it is flexible enough to allow for a certain level of diversity of thought on how those ideals and standards are to be understood and carried out. Sandy Finlayson nicely describes how that Presbyterian principle of unity and diversity gave steel to the Free Church of Scotland in its early years.
The opening chapter surveys the ecclesiastical, political, and social issues that created tension in the Church of Scotland during the early nineteenth century. By 1843, the evangelicals were so discontent with civil interference in ecclesiastical matters that 470 ministers withdrew from the Church of Scotland to form the Free Church of Scotland, losing all their benefits in the established church. There were similar experiences when the OPC was formed in 1936. Both in 1843 and in 1936, properties were confiscated by the parent denomination through legal claims, forcing congregants of the new denominations to meet anywhere they could for worship.
The next ten chapters introduce readers to Thomas Chalmers, Robert Candlish, William Cunningham, Hugh Miller, Thomas Guthrie, James Begg, Andrew Bonar, John Duncan, Alexander Duff, and John Kennedy. Other devout and influential men could have been added to this list; nonetheless, readers will appreciate Finlayson's choice of these ten, whose commitment to orthodoxy, evangelism, and social action made them key figures in building a new denomination. But however unified they were around the Reformed faith, they also had diverse opinions that resulted in intense debates. Of particular interest is Kennedy's dispute over Bonar's support of D. L. Moody's evangelistic methods. Seeing how the Lord used these imperfect men who held Christ as their sufficiency was encouraging to me.
The final chapter draws lessons for us from this history. Finlayson shows how diversity can become a weakness if the church strays from the historic message of the gospel. God honors faithfulness. The author also argues that while the church is a spiritual institution, "it is her duty to educate her members to think wisely and biblically about the issues of the day" (p. 293). He may not be exactly where I am on the subject, but there is nothing extreme in his views. Unity and diversity!
I hope many will read this fine book. Finlayson has brought a light to bear on the lives and works of a noble group of faithful ministers, and he manages to go beyond a mere factual presentation of their lives and motivations. I found myself moved by the courage and convictions of these Scots, who worked so hard and sacrificed so much to bring about and maintain the Free Church of Scotland.