Reviews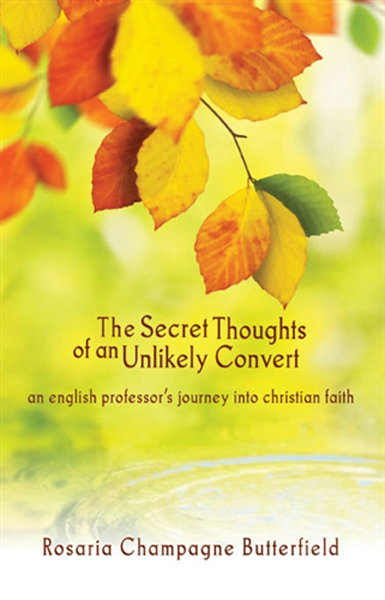 The Secret Thoughts of an Unlikely Convert
Rosaria Champagne Butterfield
Reviewed by: Charles R. Biggs, Pam Malkus
Date posted: 02/17/2013
The Secret Thoughts of an Unlikely Convert: An English Professor's Journey into Christian Faith, by Rosaria Champagne Butterfield. Published by Crown & Covenant, 2012. Paperback, 154 pages, list price $12.00. Reviewed by OP pastor Charles R. Biggs.
"And such were some of you. But you were washed, you were sanctified, you were justified" (1 Cor. 6:11). Have you thought lately about how great and amazing God's grace is to sinners? Here is an invitation to do so once again.
Rosaria Butterfield, the wife of an RPCNA minister, has written an exceptional spiritual autobiography that details her pains, frustrations, emptiness, and confusion in a world of sin and misery. Although she was a highly successful, intellectual woman, and a tenured professor at a major university, she was in desperate need of God's forgiving grace in Christ.
Rosaria uncompromisingly and vulnerably shares the incredibly great power of God's grace to a sinner who was caught up in homosexuality. She writes about the joys of learning about salvation from the lips of humble Christians who practiced mercy and hospitality, and the fullness of hope and light in her soul, and yet the messiness and chaos that can often attend seeking to follow Christ in this world, especially when breaking with the past to live a life of holiness. This book is a testimony to the power of the Holy Spirit, the Lord and Giver of all life, as he makes Christ known to his people!
Because of Christ's powerful grace to Dr. Butterfield, the book reveals the dear, regenerated heart of an affectionate mother who loves her children and seeks to raise them in the covenant. Now she serves as the faithful minister's wife who honors her husband and family as the church serves Christ (Eph. 5:21–32). Now she is the compassionate and caring friend who seeks to show the same merciful love of Christ to unbelievers. Now she is the learning disciple, seeking to know how to be like Christ in a fallen world of misery. Now she is the confessional Christian who has committed herself to the truth of God's Word, who holds these truths faithfully and seeks the means of grace that Jesus has graciously given us to grow. In the words of another redeemed sinner, "Amazing grace!—how sweet the sound—that saved a wretch like me!"
May you read, rejoice, ponder, and digest this wondrous testimony to God's amazing grace. I recommend the wisdom here with hopes that it will make you more compassionate, caring, and hopeful in the incomparably great power for us who believe (and those who haven't believed yet) (Eph. 1:19ff.). I pray that you will read it to think more deeply about how Christ's love can be demonstrated to those caught up in sinful lifestyles, without hope and without God in the world. Let us never forget when approaching unbelievers: "And such were some of you." Highly recommended reading.
~~~~~~~~~~~~~~~~~~~~~~~~~~
Click here for a second review by Pam Malkus.