Reviews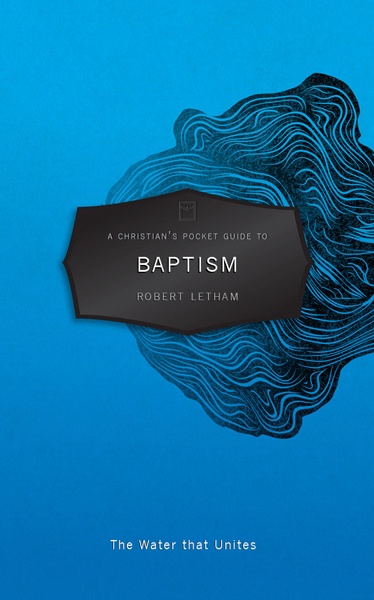 A Christian's Pocket Guide to Baptism
Robert Letham
Reviewed by: Daniel J. Dillard
Date posted: 03/03/2013
A Christian's Pocket Guide to Baptism, by Robert Letham. Published by Christian Focus, 2012. Paperback, 128 pages, list price $7.99. Reviewed by OP pastor Daniel J. Dillard.
"Good things come in small packages." That saying is certainly true of this amazing little book on baptism by Robert Letham. It is jam-packed with biblical teaching on the riches of God's grace in Christ, which are signified and sealed by the Holy Spirit in baptism and received by faith.
The book has three sections. In "Part One: Foundational Principles," Letham advocates what he calls a "canonical" approach, meaning that we must understand baptism in light of the history of redemption recorded in both the Old and New Testaments. He refutes false dichotomizing between material and spiritual. He shows how God uses material signs from the Garden onward to express his love, and, after the Fall, to express his redemptive grace. God reinforces and applies his promises by means of his sacraments. Letham also corrects our modern individualism by calling attention to the corporate aspect of salvation. Baptism points to God's grace to households within the covenant community, the church.
In "Part Two: What Baptism Signifies," Letham carefully explains the significance of what God does in our baptism. He shows that baptism fittingly portrays the reality of God's cleansing us from our sin. Letham also shows that in our baptism God points us to and unites us with Christ, in whom God's grace is both exhibited and conferred. Through baptism, God assures believers of their salvation, along with his promises. This section also includes helpful discussion of the relationship between baptism and regeneration, and further reinforces the covenantal household principles underlying baptism. The concluding chapter in this section outlines the teaching of the Protestant confessions on baptism.
In the third section of the book, Letham brings his redemptive-historical study to bear on the practical questions of adult and infant baptism. He shows that the children of believers are graciously claimed by God and ought to be baptized and nurtured in the church as believing disciples, instead of being regarded as strangers to the covenant and outside of God's grace. "They are, as Paul says, to be raised 'in the nurture and admonition of the Lord.' It is to be expected that, given faithful teaching by parents and church, that through the work of the Holy Spirit, they will soon confess their faith and grow in the grace and knowledge of Jesus Christ" (p. 101).
This little book will enrich both new and mature Christians in their understanding of the meaning and significance of their baptism. The style is very readable and easy to follow. The book employs a simple system of symbols in the margins to help the reader remember key points. Footnotes explain some points in greater technical detail and offer references to more detailed studies, as does the extensive bibliography. The small size and visual format of the book add to its user-friendliness.