Reviews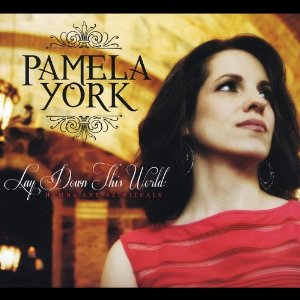 Lay Down This World: Hymns and Spirituals
Pamela York
Reviewed by: William Edgar
Date posted: 03/24/2013
Lay Down This World: Hymns and Spirituals, by Pamela York. Published by Jazzful Heart Music, 2012. CD, 57:13 minutes playing time. Reviewed by PCA minister, seminary professor and musician William Edgar.
Jazzing up the hymns? Some might cringe at the idea. That is probably because they have not listened to Pamela York's splendid new album. When they do, they will understand that these traditional songs are full of rich musical possibilities. York is an excellent jazz pianist, right up there with the best of them. Her technique is rich, but her imagination is richer. And the sidemen on this new CD are doing far more than keeping up. They have joined the conversation. Jazz is indeed conversational. Collective improvisation, when it works, which it certainly does here, is a marvel.
The album generously renders eleven hymns and spirituals, put together in a great sequence, so that not only are they individually shaped, but the programming keeps the interest level high to the end. Have you ever heard A Mighty Fortress as a jazz waltz? It works. What about Be Thou My Vision with Bill Evans–like changes (chords)? Gorgeous. When Just a Closer Walk with Thee is introduced, so is the trombone, and we are in New Orleans. I Want Jesus to Walk with Me is pure gospel. So are Ain't That Good News and Deep River. This album is full of feeling—or rather, feelings—since Pamela and her friends qualify each song into a unique emotional sensibility. These familiar tunes are done worshipfully (she created many of them in church) and joyfully (possibly inducing some listeners to dance with gladness). All music lovers should own Lay Down This World, for they will be blessed by it. Thank you, Pamela York!