Reviews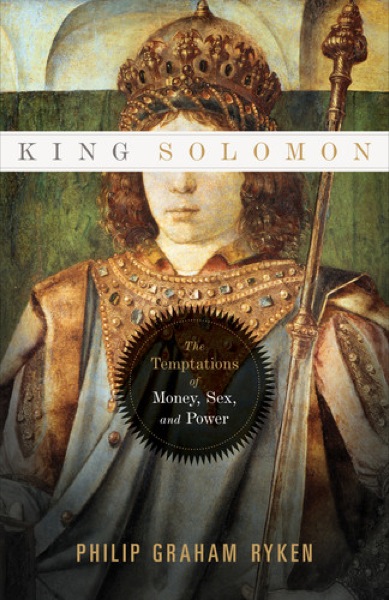 King Solomon: The Temptations of Money, Sex, and Power
Philip Graham Ryken
Reviewed by: David Harr
Date posted: 03/31/2013
King Solomon: The Temptations of Money, Sex, and Power, by Philip Graham Ryken. Published by Crossway, 2011. Paperback, 254 pages, list price $16.99. Reviewed by OP Pastor David Harr.
King Solomon lived life in the superlative. God made him the wisest of all men. His wealth qualified him as one of the richest men in history. He built one of the most important buildings, namely the temple. Even his sin was super-sized as he sank into great depravity and apostasy in his old age. A detailed study of his life does not prove boring.
Philip Ryken's recent book examines the eventful life of Solomon through a careful exposition of the opening narratives of 1 Kings. The book is an adaptation of Ryken's sermon series on 1 Kings that was originally preached to the congregation of Tenth Presbyterian Church in Philadelphia, where he served as senior minister before he became president of Wheaton College. The resulting book is a rich and useful study of an important figure in God's story of redemption.
One of the greatest strengths of this work is its Christ-centeredness. Jesus himself compared himself to the Israelite king when he declared, "Behold, something greater than Solomon is here" (Matt. 12:42). Ryken again and again points the reader to the King who is greater than Solomon. Whether the discussion is focused on Solomon's wisdom, his temple building, or his depths of depravity, the surpassing glory of Christ is proclaimed with richness and clarity.
In pointing his readers to the Lord Jesus, Ryken manages to avoid the pitfalls that often ensnare Reformed preachers. For example, the texts of 1 Kings are not misused as mere springboards to biblical-theological themes. The reader is treated to careful exposition of the texts of 1 Kings by one of the best scholar-pastors of our day. One leaves each chapter with a detailed understanding of that particular passage of God's Word.
Ryken is also careful to apply the Word specifically to the lives of his readers. As the subtitle suggests, the ever-present temptations of money, sex, and power are themes woven throughout the book. But Ryken also uses his pastoral skill to exhort readers on wisdom, leadership, worship, and repentance. The expositions challenge God's people to be grace-empowered doers of the Word.
This book will prove useful to God's people in a variety of contexts. The expositions, along with the study guide in the back, make it a great resource for an adult Sunday school class or Bible study. Preachers will also find it a helpful aid in sermon preparation.