Reviews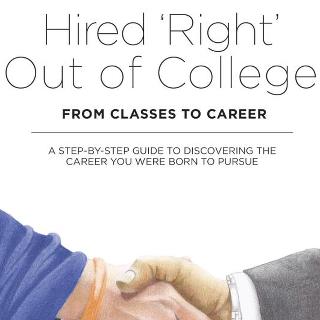 Hired 'Right' Out of College: From Classes to Career
Garrett Miller
Reviewed by: Joel Pearce
Date posted: 04/07/2013
Hired 'Right' Out of College: From Classes to Career, by Garrett Miller. Published by Dog Ear Publishing, 2012. Paperback, 144 pages, list price $14.95. Reviewed by Joel Pearce, academic librarian and URCNA member.
The college years are often seen either as an obligatory primer for the workforce focused on good grades or as an expensive four-to-six-year social outlet. Too often these are presented as the only options to high schoolers considering their futures. Garrett Miller (president and CEO of CoTria, and a deacon at Church of the Covenant OPC in Hackettstown, N.J.) presents a solution, challenging the reader to take an active role to finding one's calling.
Miller has written a readable, helpful, and hopeful book on a robust approach to the college years, though his book is not limited in application to high school and college students. He uses biblical principles and proverbs, business insight, and common sense to build his case for a fulfilling career and calling.
While acknowledging that getting good grades is important (as they demonstrate work ethic and an ability to learn), Miller stresses that they are not the only piece of the puzzle. Using the acronym AEIOU, he lays out a plan of getting involved in activities, broadening one's experiences, discerning one's internal call, and listening to others' outward call as steps to "U" being hired right.
These steps can be viewed as an inverted triangle. Broad activities and experiences should be pursued at the outset. These include student activities, broad coursework, and a variety of summer jobs. In this discovery stage, Miller stresses that it is as important to learn what one does not enjoy as much as what one does. A student should then progress from "discovery" to "choosing." Activities and experiences should lead to "busyness with a purpose," followed by "intentional involvement." But perhaps more importantly—and this is where the book leans heaviest on biblical principles—these must be combined with the inward and outward call. Together, these steps produce evidence to build a case for one's calling.
A well-rounded discussion of pursuing one's calling and future career, Miller's book is immensely practical in encouraging the reader to put concepts into practice. That is, Miller's book is not filled with abstract concepts, but it pushes the reader to interact with the book and to evaluate oneself. Questions, prompts, and an anecdotal case study follow each chapter.
Hired 'Right' is recommended for high school and college students, their parents, and recent college graduates. It is also recommended to pair Miller's work with Kevin DeYoung's Just Do Something.