Reviews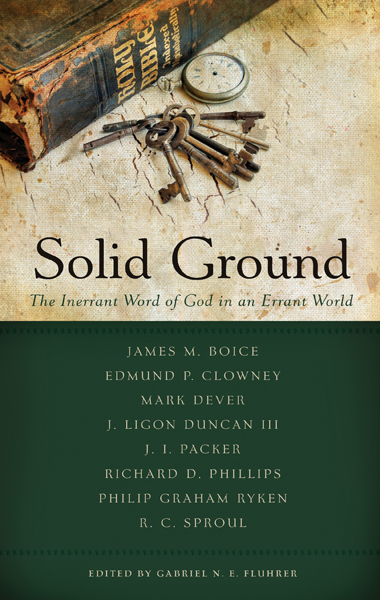 Solid Ground: The Inerrant Word of God in an Errant World
Gabriel N. E. Fluhrer, Ed.
Reviewed by: Sasha Walicord
Date posted: 06/09/2013
Solid Ground: The Inerrant Word of God in an Errant World, edited by Gabriel N. E. Fluhrer. Published by P&R, 2012. Paperback, 176 pages, list price 13.99. Reviewed by OP pastor Sasha Walicord.
In a day and age when much of the church seems to have lost its orientation, a call back to the roots of our faith is desperately needed. Solid Ground has exactly that objective, namely, to deliver a trumpet blast of truth to the church of Jesus Christ. Well-known Reformed thinkers, like J. I. Packer, R. C. Sproul, and Ligon Duncan are lined up in this work to awaken the church with essays that originally were addresses delivered at the Philadelphia Conference on Reformed Theology between 1975 and 2007, on the sufficiency, inerrancy, and infallibility of God's Word.
The first blast of the trumpet comes from J. I. Packer, who masterfully describes what a privilege it is for us to be able to know God through his Word and to be known by him. He also deals with the relation between knowledge and awareness of God in a most helpful way. This article alone would be worth the price of the book.
In the second essay, Ligon Duncan makes the case for the sufficiency of Holy Scripture for all areas of life. He points out, "God's infallible Word is fully adequate and authoritative for salvation and sanctification, for evangelism and edification, for faith and for life."
R. C. Sproul then defends Scripture as the carrier of God's truth and warns us of subjective, relativistic distortions of the concept of truth. He reminds us that "truth is that which corresponds to reality as it is perceived by God."
"Scripture Alone" is the title of the late James Montgomery Boice's essay. He reminds us that sola Scriptura is an uncompromising and all-encompassing concept for Christians. He ends his challenging essay with an equally challenging quote from J. C. Ryle: "Give me the 'plenary verbal' theory, with all its difficulties, rather than [doubt]. I accept the difficulties of that theory, and humbly wait for their solution. But while I wait, I feel that I am standing on a rock."
Richard D. Phillips encourages us from the great fifty-fifth chapter of Isaiah to trust the power of God's Word. Both preachers and congregations must trust God's mighty Word.
Mark Dever then elaborates on the centrality of God's Word for the church today. He makes a quite convincing case for expository preaching as the most important mark of a healthy church.
The perspicuity of Scripture and how it relates to sola Scriptura is the topic of Philip Ryken's illuminating contribution to this collection of great essays.
Edmund P. Clowney concludes the book with an essay on preaching as the means of revival.
Solid Ground is a desperately needed wake-up call for Protestants who have become accustomed to a rather cavalier attitude to the Word of God. We need to be reminded that the Bible is to be our only rule for all areas of life, without exception. The authors have done an outstanding job of reminding us of that fact.