Reviews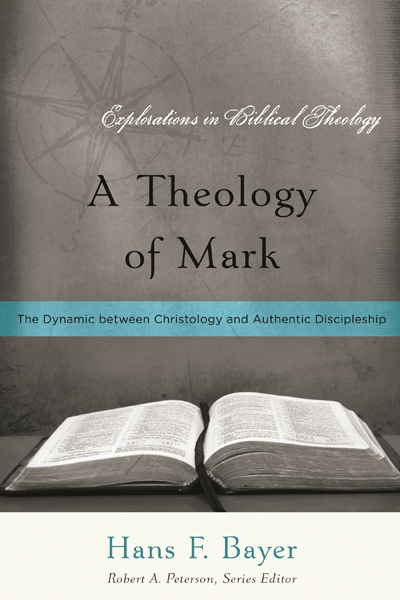 A Theology of Mark: The Dynamic between Christology and Authentic Discipleship
Hans F. Bayer
Reviewed by: Mark A. Collingridge
Date posted: 08/11/2013
A Theology of Mark: The Dynamic between Christology and Authentic Discipleship, by Hans F. Bayer. Published by P&R, 2012. Paperback, 240 pages, list price $17.99. Reviewed by OP pastor Mark A. Collingridge.
Biblical commentaries need more theological reflection. Interpreters should listen to the structures, themes, and theology of the Scriptures. Bayer's book does just that and does it well.
Bayer weaves together two key ideas in the gospel of Mark: Jesus-perception and self-perception. "Who do people say that I am?" and "Who do you say that I am?" (Mark 8:27, 29) are the central questions, not simply for the gospel of Mark, but for all life and reality (p. 64). But to know Jesus, to perceive his true person and work, is to be immediately confronted with our own self-perception. In fact, this is true discipleship. Authentic discipleship isn't primarily about following moral codes and disciplines, but rather about exposure to Christ and his transforming power (pp. 24, 31, 51, etc.).
Mark sets before us the historical Jesus (a fact that cannot be taken for granted in this day and age), who is none other than God in the flesh, the glorious Son of Man. And yet Jesus is also the humble Servant of the Lord, who comes to offer himself as a sacrificial atonement for his people. Christ's resurrection legitimates the call of discipleship because this humble servant has been exalted to God's right hand and rules over all things.
Bayer shows us how the twelve disciples deal with this double crisis of God-perception and self-perception. They have their own ideas about God, the Messiah, and his kingdom—ideas forged by particular (Jewish) understandings of Scripture, the nation of Israel, and the Gentiles. They consequently have perceptions about themselves in relation to the Lord, his coming kingdom, and others. Bayer's discussion of blindness as a picture of the disciples in the gospel of Mark is excellent—especially the two-stage healing in Mark 8.
Bayer also discusses how knowing Jesus is the path to authentic discipleship because, in the end, discipleship is Christ-centered. A disciple is one who trusts and rests in Christ, receives his kingdom, and follows him. Bayer has an extended discussion of the characteristics of true discipleship and Christlikeness: unconditional surrender, trust, prayer, guarding one's heart, humility, forgiving others, standing against temptation, and willingness to confess Christ. The very things seen in Christ are then reproduced in his disciples as they are restored in the image of God in Christ and made into a new humanity under Christ.
This is a good book, with many insights into Marcan theology. It is not perfect (the explanation of the kingdom of God leaves much to be desired), but it doesn't claim to be. It's a theology of Mark, not the theology of Mark.