Reviews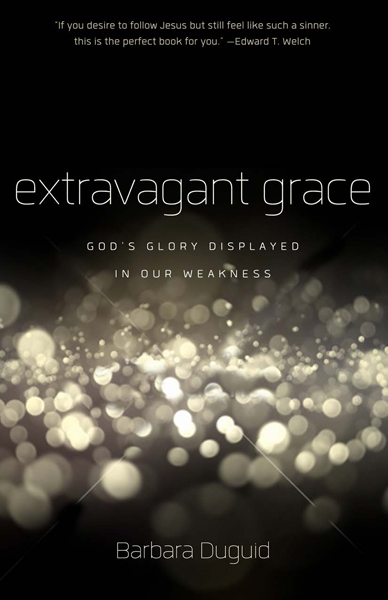 Extravagant Grace: God's Glory Displayed in Our Weakness
Barbara Duguid
Reviewed by: Maureen Sutton
Date posted: 03/02/2014
Extravagant Grace: God's Glory Displayed in Our Weakness, by Barbara Duguid. Published by P&R, 2013. Paperback, 240 pages, list price $12.99. Reviewed by OP member Maureen Sutton.
Barbara Duguid's book Extravagant Grace has received rave reviews from thoughtful Christian writers. It deals with honest questions she has wrestled with concerning the presence of remaining sin in a believer's life.
Her answers flow chiefly from her study of Select Letters of John Newton. She includes many real-life stories. Her book is written in a simple, conversational style that is inviting. It is undergirded by her sound theological knowledge, widespread reading of other Christian writers, and familiarity with the historic Reformed Confessions.
In the preface, Duguid speaks of her experience as a pastor's wife, meeting Christians who are discouraged and depressed because they still sin. In Duguid's words, "The sins they try hardest to conquer and triumph over are often the very ones they cannot defeat" (p. 17). She attributes much of the blame for this on preaching that focuses too much on defeating sin. This kind of preaching conveys the false illusion that personal growth in holiness depends upon our faith and our efforts to stop sinning, rather than upon a work of grace accomplished solely by God.
She stresses that self-effort to overcome sin in our lives is not what God intends for us. Rather, we should progressively realize that God's "extravagant grace" is such that we can have joy in the midst of great failure and even "thrive in the face of great failure."
Duguid's main emphasis is that although you, as a genuine believer, do and will frequently lapse into sin, this does not mean that you are unsaved or that God is disappointed with you. She urges you to remember that when you sin, Christ has perfectly obeyed for you. So a believer is "free to struggle and fail," or "free to grow slowly," or even "not to grow at all." So accept God's wisdom in calling you to this struggle and count on his faithfulness in bringing you safely home. And trust that God does change his people. In the midst of your sin, he is always for you and not against you.
Overall, Duguid explores two biblical tracks: Christ's finished work for us, and our obligation to mourn over and wrestle against sin in our lives. At points, these two tracks are not clearly distinguished, which can lead to misunderstanding. In general, however, this is a book well worth reading and pondering. Duguid has her spiritual feet planted firmly in a down-to-earth take, both on the powerful reality of our remaining sin and also on the wonder that God has chosen to display his glory in our weakness.