Reviews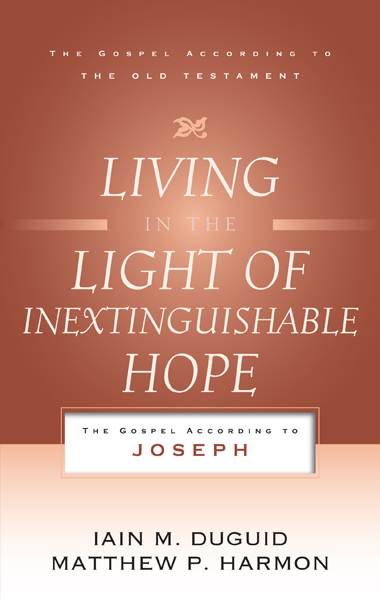 Living in the Light of Inextinguishable Hope: The Gospel according to Joseph
Iain M. Duguid & Matthew P. Harmon
Reviewed by: Thomas A. Martin
Date posted: 03/23/2014
Living in the Light of Inextinguishable Hope: The Gospel according to Joseph, by Iain M. Duguid and Matthew P. Harmon. P&R, 2013. Paperback, 224 pages, list price $14.99. Reviewed by OP pastor Thomas A. Martin.
In Living in the Light of Inextinguishable Hope: The Gospel according to Joseph, Iain Duguid and Matthew Harmon liberate Joseph from splendid isolation as the hero figure in a morality tale and locate him in a complex web of relationships extending from his dysfunctional family of origin to his "great nephew" Jesus. The authors probe this web skillfully, laying bare the sins of the heart and their destructive consequences for human relationships. As they do so, we recognize ourselves—and our need for Jesus.
Where Duguid and Harmon succeed in their unflinching exposure of sin, they are equally effective in applying the balm of the gospel. This will commend the book to counselors ministering to sinners and to victims of sin. With its focus on broken relationships, the book is a case study in reconciliation and redemption (it is great source material for peacemakers!).
This volume is an excellent addition to P&R's Gospel according to the Old Testament series, "written primarily for pastors and laypeople, not scholars … designed in the first instance to serve the church, not the academy" (page xi). Here the academy has been brought into fruitful service of the church. Like other volumes in the series, this one is readily accessible to laypeople. In fact, it is compelling reading!
The book is based on a series of sermons by the authors and is a vivid show-and-tell for aspiring preachers of Old Testament narrative. It is a useful hermeneutical key to patriarchal history for Sunday school teachers and parents. In addition, this is a valuable tool for the biblical counsel of victims of abusive relationships who need the healing power of the gospel. Each of the fourteen chapters concludes with questions "for further reflection," making the book suitable as a study guide for individual or group use.