Reviews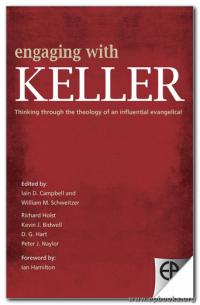 Engaging with Keller: Thinking through the Theology of an Influential Evangelical
Iain D. Campbell & William M. Schweitzer, Eds.
Reviewed by: Jeremiah Montgomery
Date posted: 04/13/2014
Engaging with Keller: Thinking through the Theology of an Influential Evangelical, edited by Iain D. Campbell and William M. Schweitzer. Evangelical Press, 2013. Paperback, 160 pages, list price $15.99. Reviewed by OP pastor Jeremiah Montgomery.
Like C. S. Lewis, Tim Keller has attracted both admirers and critics. In the very first sentence of Engaging with Keller, Ian Hamilton acknowledges that "Tim Keller has done immense good for the kingdom of God." Writing "first as an admirer," he hopes that "Dr. Keller will receive this critique of his theology and methodology in the spirit in which it is offered."
Like Hamilton, the present reviewer writes "first as an admirer of Dr. Keller." The Reason for God has given me tremendous help—both personally and as a pastor in a university community. As a church planter, I have also found the chapters on "contextualization" in Center Church quite useful. Although I disagree with Keller at significant points, I have never read or listened to him without benefiting. I thus approached Engaging with Keller with a critical eye.
Five of the six essayists hail from churches in Great Britain. These include three pastors in the Evangelical Presbyterian Church in England and Wales, a recent moderator of the Free Church of Scotland, and the chairman of the International Conference of Reformed Churches. The only American contributor is D. G. Hart.
The opening essay, "Keller on 'Rebranding' the Doctrine of Sin," is perhaps the least persuasive. Campbell is correct that Keller tends to explain sin as idolatry and self-centeredness. Yet he is less convincing when he argues that this leads Keller to "dismiss a definition of sin as a breaking of God's rules." On the same page cited by Campbell in making his case (Center Church, 127), Keller himself asserts that "postmodern people" who argue for relative moral standards "must eventually be challenged about their naïve view of truth."
Other contributions were more compelling. Although one may disagree with Schweitzer as to whether there is an aspect of self-choice among those in perdition, his essay correctly identifies a weakness in Keller's explanation of hell: namely, that Keller is too quiet on the active judgment and wrath of God. Likewise, Naylor's essay on "The Church's Mission" presents a strong argument—reinforced by Hart's historical odyssey into the roots and weaknesses of Keller's own model.
How would Keller reply to his critics? According to the introduction, the editors invited Keller "to respond to these concerns within the pages of this book," but he was too busy to do so. Here we must be fair. Keller's critics should not immediately be faulted for raising legitimate questions. At the same time, he should not immediately be faulted for declining to reply to unsolicited critiques.
As a "public discussion of public teaching," Engaging with Keller succeeds. Its overall tone is civil, and valid issues are raised. Yet in its aim to be an engagement, the book is too one-sided. For those of us who both admire Keller and appreciate his interlocutors, more's the pity.