Reviews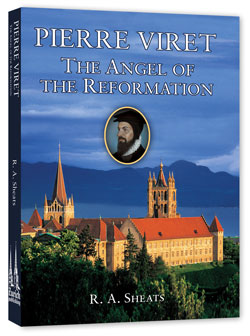 Pierre Viret: The Angel of the Reformation
R. A. Sheats
Reviewed by: G. I. Williamson
Date posted: 06/22/2014
Pierre Viret: The Angel of the Reformation, by R. A. Sheats. Zurich Publishing Foundation (Tallahassee, Fla.), 2013. Hardback, 323 pages, list price $30.00. Reviewed by OP minister G. I. Williamson.
If you are like me, the name of this Reformer will only evoke rather hazy recollections. Yes, we know that he was a man of second-order importance in the time of the much more famous John Calvin. But that is about all that comes to mind. What we need, then, is a book like this to fill in the empty spaces and provide a much more balanced view of those exciting years in Geneva (and other important Reformation places). As the author of this fine study unfolds the remarkable life of this man, it becomes vividly clear, again, that even the most celebrated men are not solo performers. John Calvin himself would never have accomplished what he did in Geneva without the help of great men beside him, and one of the most winsome and most valued of these by Calvin himself was Pierre Viret.
The book's publication in 2013 was intended to honor the five hundredth anniversary of his birth. The book is very well written and is never verbose in telling the long and interesting story. It is also blessed with many excellent pictures (most of them color photographs) of the churches and places in which Viret's labors took place. As Jean-Marc Berthoud, historian and theologian in Lousanne, Switzerland, says, "Not only has R. A. Sheats given us the first full (and exhaustively illustrated!) biography of Viret in English, but has achieved this feat with impeccable scholarship … an achievement which she has rendered in a most engaging and attractive style."
Click here for a second review.