Reviews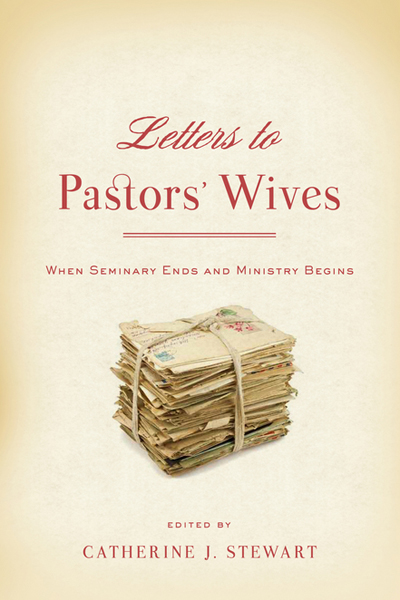 Letters to Pastors' Wives: When Seminary
Ends and Ministry Begins
Catherine J. Stewart, Ed.
Reviewed by: Kathleen Curto
Date posted: 08/24/2014
Letters to Pastors' Wives: When Seminary Ends and Ministry Begins, edited by Catherine J. Stewart. P&R, 2013. Paperback, 288 pages, list price $14.99. Reviewed by OP member Kathleen Curto.
A book written specifically for young pastors' wives should help them face the daily challenges they will meet. It should be comforting and reassuring, to cheer and hearten them in the midst of trials that are bound to come. Most importantly, it should provoke them to personal piety and godliness.
Letters to Pastors' Wives achieves these goals. It is a remarkable collection of letters, written by wives of men in gospel ministry, addressing eighteen different subjects related to ministry. The chapters are simply written and well organized, and they include questions at the end for discussion.
The authors quickly dispel the notion that being a pastor's wife is a thankless and burdensome job. As Catherine Stewart states in her introduction, "There is no right type of pastor's wife, only the one whose heart is wholly set on serving Christ.… We are not called to fit into a certain mold but to be helpmeets to our husbands" (p. 16). Because these authors understand this truth, this book, though it is as practical and helpful as can be, is mostly devotional, convicting and comforting to the reader.
The authors are honest and open in their discussions. They offer many personal experiences and are willing to share their weaknesses and struggles. Joan Hamilton, writing on "Sharing Her Husband," admits, "I know that I have not always got it right and I am still learning. I have not reached the point where this sharing of myself, my husband, our family, and our home is always easy. Holding these treasures on my open palm is a daily challenge and requires a daily coming to God for his help and grace" (p. 143).
Helpful as well is the excellent theology presented throughout the chapters. "The Lord's Day: A Hard Day's Rest" is a clear presentation of why we believe the fourth commandment is still applicable today. The reader is often encouraged in the use of the means of grace, and almost every chapter clearly points to Christ as our refuge. The chapters on "Bereavement" and "Depression" encourage us to do our duty and to look beyond ourselves—seemingly hard words, but helpful because they were written by women who have experienced God's grace in the midst of deep affliction.
I found the chapters on "Humility," "Respecting My Husband," "The Importance of Friendships," and "Conflicts within the Church" particularly helpful. I wish I had been able to read these exhortations earlier in my own experience as a pastor's and missionary's wife.
Although this book is designed for pastors' wives, it would be of great encouragement and comfort to any woman in the body of Christ. Mrs. Stewart says, "We write as beggars, showing another beggar where God has so graciously fed us along the ups and downs of our own lives immersed in Christian ministry" (p. 15). Her exhortation to "put on a spirit of holy joy in Christ and be the kind of helpmeet your husband needs" (p. 37) sums up what this book is about. Well done, ladies!