Reviews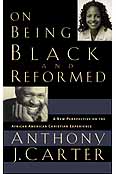 On Being Black and Reformed: A New Perspective on the African-American Christian Experience
Anthony J. Carter
Reviewed by: Larry Wilson
Date posted: 09/25/2005
On Being Black and Reformed: A New Perspective on the African-American Christian Experience, by Anthony J. Carter. Published by P&R, 2003. Paperback, 154 pages, list price $9.99. Reviewed by OP minister Larry Wilson.
Anthony J. Carter is a graduate of Reformed Theological Seminary (Orlando), cofounder of the Black Alliance for Reformed Theology, and assistant pastor for preaching and teaching at Southwest Christian Fellowship in Atlanta. He formerly served as a resource consultant and staff writer for Ligonier Ministries.
This book offers a needed challenge both to our black brothers and sisters in Christ and to our largely white Reformed churches. On the one hand, Carter suggests that the Reformed faith offers black Christians a biblically consistent approach to the Scriptures and an understanding of the hand of God in the African-American experience, including the injustices involved in manstealing, slavery, segregation, and discrimination.
On the other hand, Carter's explanations of his own experiences offer at least an indirect challenge to our largely white Reformed churches: to become more consistent with the catholic vision of our full-orbed Reformed confessions. Carter states, "Reformed theology is biblical, historical, and experiential. African Americans have had no difficulty in locating these three pillars of truth in their sojourn and should seek to fully incorporate them in their quest for God. We can be Reformed because, contrary to popular opinion, we do not have to stop being African American to do so" (p. 103). That is as it should be. But is that as it really is? For the sake of our Lord Jesus Christ and the reformation of his beloved bride, we must heed this challenge.