Reviews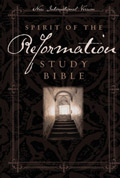 Spirit of the Reformation Study Bible
Richard Pratt, Ed.
Reviewed by: Arthur J. Fox
Date posted: 03/05/2006
Spirit of the Reformation Study Bible. Edited by Richard Pratt. Published by Zondervan, 2003. Hardback, 2208 pages, list price $39.99. Reviewed by Pastor Arthur J. Fox.
There is a lot to like about the Spirit of the Reformation Study Bible. It presents itself as the successor to the New Geneva Study Bible. It has the same contributors and some of the same notes, but the editor is now Richard Pratt. The appendix focuses on the Westminster standards and the Three Forms of Unity. But the Westminster Confession has two chapters added to it, Of the Holy Spirit and Of the Gospel, from the Evangelical and the Associate Reformed Presbyterian Churches, respectively. As an Orthodox Presbyterian, I felt uncomfortable with these additions, but Zondervan is reaching out to all Reformed denominations. This appendix is a real plus, as are the sixty-three articles scattered about the Bible.
I have one basic problem with this study Bible: It uses the New International Version. In my view, the dynamic equivalence translation theory used by the NIV (preserving the sense of the passage, not necessarily the words) compromises the doctrine of verbal inspiration, which is better served by a more literal translation.
With that concern in mind, I do recommend the Spirit of the Reformation Study Bible as a useful tool for anyone interested in studying the Bible from a Reformed perspective.