Reviews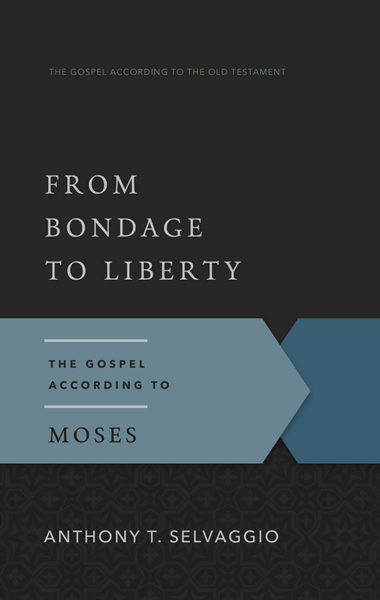 From Bondage to Liberty: The Gospel According to Moses
Anthony T. Selvaggio
Reviewed by: Matthew E. Cotta
Date posted: 01/11/2015
From Bondage to Liberty: The Gospel According to Moses, by Anthony T. Selvaggio. P&R, 2014. Paperback, 170 pages, list price $14.99. Reviewed by OP minister Matthew E. Cotta.
No doubt many readers of New Horizons are already aware of, and have been greatly blessed by, other volumes in the Gospel According to the Old Testament series (edited by Iain Duguid). This series is designed to help and encourage pastors and laypeople to read the Old Testament as the Spirit intended it to be read: in the light of the glory of Jesus Christ. The contribution of Anthony Selvaggio, a visiting professor at Reformed Presbyterian Theological Seminary, to this series serves that purpose very well.
This book is really an explanation of the significance of Moses in the history of redemption as set forth in the book of Exodus. In writing it, Selvaggio demonstrates exegetical skill and a pastor's heart as, following his Lord's lead and beginning with Moses, he opens up to us many of the things that were written concerning Christ in this pivotal portion of God's Word.
Some of the highlights of this book for me were the helpful discussion of the significance of the covenant name of God in chapter 4, the connection between God's word and his deed revelation in chapter 5, the nature of human responsibility and God's sovereignty in chapter 6, and the symbolism inherent in the Passover celebration (particularly in the unleavened bread) in chapter 7.
Again, these were just highlights. As a whole, the book was edifying, reinforcing and clarifying themes that I had already cherished, as well as opening up new vistas for my understanding. I did find myself, however, in less than full agreement with his take on the early life of Moses.
Selvaggio argues that Moses' killing of the Egyptian and subsequent flight from Egypt stemmed from sinful motives, such as selfish ambition, autonomy, and pride, all of which needed to be purged out by forty years in the wilderness if he was one day to serve as a true type of Christ. While I admit the appeal of such a reading, I'm not sure it fits the inspired take of the author of Hebrews on this period of Moses' life (cf. Heb. 11:24–27).
There were only a couple of editorial mistakes that I ran across: (1) The Scripture passage on page 12 ought to be Hebrews 3:1–6 rather than 3:11–6. (2) On page 78, in the second full paragraph, the sentence beginning "He hardened" ought to read "He hardened his heart," rather than "He hardened his hard."
Overall, this book is self-consciously Reformed and Christ-centered, and I definitely recommend it to our readers. It is particularly well suited for group studies, and study leaders will be greatly served by the questions for reflection given at the end of each chapter. Whether one agrees with all of Selvaggio's conclusions or not, the way Scripture is handled, the well-written and direct style, and its pastoral tone commend it highly.