Reviews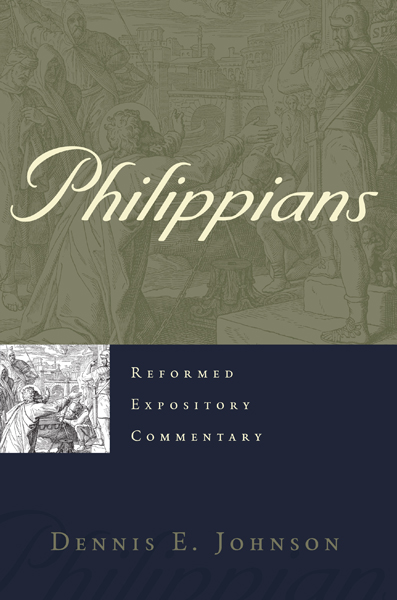 Philippians (Reformed Expository Commentary)
Dennis E. Johnson
Reviewed by: Chad Bond
Date posted: 01/18/2015
Philippians (Reformed Expository Commentary), by Dennis E. Johnson. P&R, 2013. Hardback, 384 pages, list price $29.99. Reviewed by OP pastor Chad Bond.
From Dennis Johnson the church has received a valuable biblical exposition, in addition to his earlier volumes on Acts and Revelation. This volume, on Paul's Epistle to the Philippians, belongs to the Reformed Expository Commentary series. As such, its style is more sermonic than an ordinary commentary, and it therefore reflects Johnson's experience and expertise—not merely as an expositor of Scripture, but also as a seasoned pastor and a professor of practical theology at Westminster Seminary California.
For the minister who's searching for good resources to fill his library, this volume is no substitute for the standard academic commentaries on Philippians. But what a welcome supplement! Johnson has provided an admirable specimen that models the method he articulated in his helpful homiletics text, Him We Proclaim.
Johnson breaks the epistle down into eighteen sections, with each section containing about seventeen pages of exposition. The usual elements of traditional commentaries are not overlooked, such as grammatical details and historical background. Johnson masterfully handles such matters in appropriate measure.
But our expectations of a traditional commentary are exceeded by his pervasive integration of Reformed biblical-theological insights, as well as his generous inclusion of many engaging applications and anecdotes. Johnson succeeds, not only in bringing Paul's inspired message to light, but also in bringing it to bear upon the hearts and lives of his Christian readers. As the publisher states, "Johnson shows how Paul, writing from imprisonment to a church close to his heart, uses his own experience and attitude as exemplars to show the Philippians the difference a Christ-formed mind makes to the way believers respond to adversity, rivalry, conflict, vanity, achievement, the ongoing pursuit of holiness, and the strategic deployment of our resources for the gospel."
The format and style of this book also make it ideal for personal or group Bible study. Anyone seeking a better grasp of Philippians would do well to read it—and won't be disappointed.