Reviews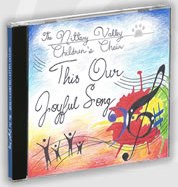 This Our Joyful Song
Nittany Valley Children's Choir
Reviewed by: Alan D. Strange
Date posted: 04/12/2015
This Our Joyful Song, featuring the Nittany Valley Children's Choir, directed by Lou Ann Shafer. CD, $15.00, available at nittanyvalleychildrenschoir.org. Reviewed by OP minister Alan D. Strange.
Lou Ann Shafer, music editor for the OPC/URC Psalter-Hymnal project, has released a delightful disc of sacred and secular songs performed by the Nittany Valley Children's Choir. Mrs. Shafer founded the community choir, based in State College, Pennsylvania, in 1997. The choir currently serves over 120 children, ages 4–18, in three levels, two of which appear on this album: the Blue Choir and the Concordia Singers. The former is a non-auditioned choir for children 7–18, while the latter consists of advanced singers and has won numerous awards, including the Silver Medal at the 2012 World Choir Games in Cincinnati.
Mrs. Shafer holds the M.M. degree from Oberlin College Conservatory in Ohio and, in addition to giving private lessons in voice and piano, has conducted widely and composed and published church choral music. Her husband, Timothy Shafer, the musicologist for the Psalter-Hymnal, and professor of piano at Penn State University (who also has won multiple awards), is the pianist on this lovely recording. There are other instrumentalists on selected numbers (strings, winds, and percussion), all of whom play well, but the piano accompaniment is especially sensitive and tasteful. A John Rutter piece (track 15) is performed with the Nittany Valley Symphony, and there are also various vocal soloists, including the Shafer's daughter Sarah, a wonderful soprano trained at the Curtis Institute of Music (Philadelphia), who performs widely, including with major opera companies.
It's hard to select favorites, as all the music is performed with attention to nuance and beauty of expression. The sacred music is reverent and joyful, and the secular music is sometimes moving and at other times whimsical (including Finnish, French, Hungarian, English, and Irish Folk Songs). There is something for all! I particularly enjoyed track 5 ("The Snow"), a haunting Edward Elgar tune; track 13, a beautiful hymn by Mendelssohn (with Sarah Shafer!); and track 21, featuring a lyric tenor with a lilting legato. There are also lovely texts by Christina Rossetti, Emily Brontë, John Keats, Charles Dickens, and others. The voices of these children, fresh yet disciplined, joyfully singing well-written music of different styles, offer many happy hours of listening.