Reviews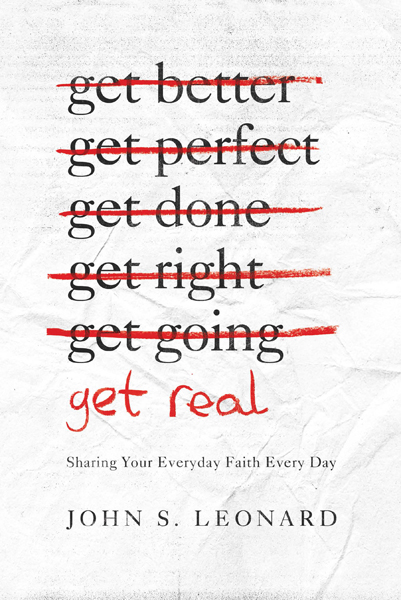 Get Real: Sharing Your Everyday Faith Every Day
John S. Leonard
Reviewed by: Larry Oldaker
Date posted: 05/03/2015
Get Real: Sharing Your Everyday Faith Every Day, by John S. Leonard. New Growth Press, 2013. Paperback, 192 pages, list price $17.99. Reviewed by OP regional home missionary Larry Oldaker.
Leonard contrasts the aggressive, canned, impersonal evangelistic approach that many have been taught or experienced with a nonthreatening, personal conversation about spiritual things. He states, "Sharing your faith doesn't impose itself on others, leaving them feeling resentful and used. It invites people to step beyond a superficial friendship where no one really cares about listening, and to head toward a deep spiritual relationship."
Writing the book about grace and not about guilt, Leonard describes grace as God's free gift from the beginning of our spiritual journey to its end. Using references from Luke 18, Leonard shows that "let's try harder" is the natural approach to religion. But to share the gospel of grace, we must first experience it. "The Christian life is lived—from beginning to end—by grace."
From Luke 7, Leonard shows how Jesus interacted with all kinds of people. He reminds us that Jesus saves us by getting dirty from our sin and suffering for us. He wants us to see the cost of grace to God and the benefit of grace to us. We need to believe in the grace of God offered in the gospel before we can share it with others. So the question is, do you really know God's grace?
Using real-life illustrations and short chapters, Leonard moves us through this easy-to-read book by taking up various topics. He emphasizes that believers should be talking with people in everyday situations. Leonard's concern is that evangelism should be friendly, not just using friendships as a means to the end of evangelizing people. We are encouraged to take time to use "every circumstance and question in their lives as a window into what it means to follow Christ."
Leonard reminds us that belief in God's sovereignty means that we rely on God to bring people into our lives through regular prayer for others. In the chapter entitled "Listen More Than You Speak," Leonard encourages us not to look for people to talk to, but to look for people to listen to. This involves being truly interested in people you meet. "The gospel begins with the person you're speaking to. As they speak about the immediate problems they're facing or questions they have, we should be listening and praying, asking our Lord to help us gather together everything we have heard, read, or understood from the Scriptures in order to respond to their problems or questions."
The goal of this book is to make evangelism more natural. In the end, the motive for evangelism is to love people enough to listen to them and then converse with them about God's rich grace.
There are some weaknesses in this book. Leonard appears to soften the call to repentance in favor of only owning and confessing sin. Many of the themes of the book are repeated in the various chapters. This emphasizes Leonard's intended message, but indicates a lack of development. "Party Evangelism" is the unfortunate title of one chapter; I would prefer to see a term like "fellowship" or "covenantal" used.
All in all, though, the book encourages us to share the gospel more naturally, exhibiting love for sinners as Christ has loved us.