Reviews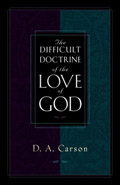 The Difficult Doctrine of the Love of God
D. A. Carson
Reviewed by: George W. Knight III
Date posted: 04/16/2006
The Difficult Doctrine of the Love of God, by D. A. Carson. Published by Crossway Books, 2000. Paperback, 93 pages, list price $12.99. Reviewed by Prof. George W. Knight III.
Professor D. A. Carson has done the entire church a great service in this succinct work on God's love. He begins by giving us five reasons why this is a "difficult doctrine" today. You will see, when you read them, that he is correct.
In the first chapter, he talks about "Distorting the Love of God." One way in which we do that, he says, is to emphasize only one of the several ways that God shows his love. He then spells out five ways that the Bible speaks of God's love: (1) the peculiar love of the Father for the Son, and of the Son for the Father, (2) God's providential love for all that he has made, (3) God's salvific stance toward his fallen world, (4) God's particular, effective, selecting love toward his elect, and (5) God's love for his people in a provisional way that is conditioned on obedience. For each of these, he cites passages of Scripture, and the impact of his discussion is quite significant.
The book is fleshed out, after this impressive beginning, with chapters on "God Is Love," "God's Love and God's Sovereignty," and finally one on "God's Love and God's Wrath."
This is a book that every pastor should read for his own spiritual good and for his preaching as well. But this book should also be read and pondered by all who want to know about God's love in connection with his character. It will teach us how to love him and others, and will encourage us to praise the God who loves us. Its brevity should encourage us to tackle it.