Reviews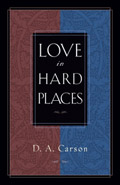 Love in Hard Places
D. A. Carson
Reviewed by: George W. Knight III
Date posted: 04/23/2006
Love in Hard Places, by D. A. Carson. Published by Crossway Books, 2002. Paperback, 207 pages, list price $14.99. Reviewed by Prof. George W. Knight III.
This book is a follow-up to his earlier book, The Difficult Doctrine of the Love of God. To make sure that we realize that God is calling us to express his love to sinners in a sin-cursed world, the author entitles this work Love in Hard Places. But he doesn't take us to the hard places first. Rather, we first go to the commandment of God, who calls us to this joyful and also hard task.
This chapter is followed by five more: "Love and Enemies, Big and Small," "Love and Forgiveness: Thinking about Basics," "Love and Forgiveness: Two Hard Cases," "Love and the Denial of the Gospel," and "Love and the Intoxication of the Diligent Routine."
Each of these chapters draws us further into doing what God calls us to do, but also reminds us that in doing so there will be hard places in which it should be done.
Take the two chapters on forgiveness. Should we forgive someone before he asks for forgiveness and repents? Think of the answer(s) you may have heard on this subject, and then take a look at Carson's answer as he begins it on pages 73-74. Or what about a really hard case or place? What about Osama bin Laden? Carson uses this case to illustrate what it means to love our enemies - even when, as citizens, we may also be called on to fight a just war. There is much to think about in this and every chapter.
And what about the so- called "love" for non-Christians that denies that Jesus alone is the way to God? Is this the love that God is calling us to? See the chapter on "Love and the Denial of the Gospel."
For answers to so many hard questions, D. A. Carson has written Love in Hard Places. Read it and find both the answers and the ability through God's grace to live and love in this world, a hard place for God's love.