Reviews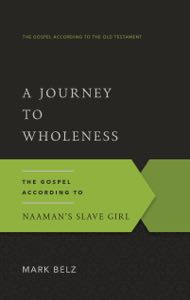 A Journey to Wholeness: The Gospel according to Naaman's Slave Girl
Mark Belz
Reviewed by: David Graves
Date posted: 05/29/2016
A Journey to Wholeness: The Gospel according to Naaman's Slave Girl, by Mark Belz. P&R, 2015. Paperback, 208 pages, list price $14.99. Reviewed by OP pastor David Graves.
A Journey to Wholeness is a volume in P&R's The Gospel according to the Old Testament series, which "is designed to encourage Christ-centered reading, teaching, and preaching of the Old Testament." Using that criterion as the focus of his book, Mark Belz succeeds in shedding Christ-centered light upon 2 Kings 5. He leads the reader through the narrative, as well as showing its place in the flow of redemptive history.
Belz begins with a broad overview of the narrative, and then he looks at the major characters of 2 Kings 5: the slave girl, Naaman, and Elisha. He interrupts his discussion of Elisha with a chapter on God's healing of Naaman. Afterwards he interacts with the sordid affair of Gehazi embezzling from Naaman. Belz demonstrates how God still received the glory, even though the gospel proclamation evident in the healing of Naaman was obscured by Gehazi's sin. Belz shows the folly of Ben-hadad's attempt to kill Elisha in 2 Kings 6, and how, through the opening of the eyes of Elisha's unnamed servant (who Belz says was probably Gehazi, restored from his leprosy) and the closing of the Syrian army's eyes, God brought an end to the Syrian raids on Israel, which had resulted in the enslavement of the Israelite girl in order to bring her into contact with Naaman.
Finally, Belz focuses on Naaman's relationship to Christ Jesus. He contends that, since Jesus is the only hope, even the healing of Naaman was in fact a proclamation of Jesus by Elisha. This is a helpful reminder that the Old Testament narratives declare the glory of God that was ultimately revealed in the glorious gospel of our Lord Jesus Christ, and that, from the Fall in Genesis 3 onward, the only hope of mankind is found in the atoning and reconciling work of Jesus Christ.
Belz is a gifted storyteller, and his skill greatly enlivens the flow of his volume. At some junctures, though, he adds details for the sake of a good story that are not in the biblical narrative. For example, he speculates that Naaman's family listened to their slave girl because she was not prone to telling wild stories. Thankfully, though, when Belz's imagination begins to overreach, he generally then flows into sound theological reflections on the text. In the case just mentioned, he explains that the family listened to her ultimately because of the providence of God.
Aside from the occasional fancy in his storytelling, Belz demonstrates a sound hand with both his close reading of the text and his connecting of this story to the progress of redemption. This book would serve well as devotional reading; it illustrates, through a lesser-known biblical account, God's meticulous care for his people.