Reviews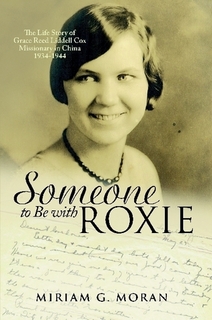 Someone to Be with Roxie
Miriam G. Moran
Reviewed by: Patricia E. Clawson
Date posted: 06/12/2016
Someone to Be with Roxie, by Miriam G. Moran. Lulu Press, 2015. Paperback, 258 pages, list price $18.99. Reviewed by OP member Patricia E. Clawson.
The trials the Lord leads us through rarely are foreseen. Someone to Be with Roxie tells the story of Grace Cox, an Iowa farm girl who could not have imagined her future when she became a missionary to China in 1934. This unassuming saint learned different languages in order to serve in at least seven places in China, married a fellow missionary, and fled from the invading Japanese Army during World War II—all while trusting in God.
This account was written by one who was with Grace and her husband as they scurried along the Burma Road as Japanese shells screamed overhead. Miriam G. Moran, the wife of retired Orthodox Presbyterian minister Allen Moran, was seven months old when her parents sheltered her from the machine guns strafing the hillsides. She doesn't remember her mother, Grace, who died in 1945 when she was four. But in 1985—forty years after her mother's death—Miriam found a box of her mother's letters and memorabilia. By matching those letters with others of her father's, Miriam wove a beautiful narrative of her mother's walk of faith.
One of eight children, Grace graduated at sixteen, dedicated her life to Christian service, studied at Moody, and became a missionary with the China Inland Mission, founded by Hudson Taylor. No stranger to hardship, Grace sometimes lived in a bamboo hut among remote tribes, while at other times teaching or acting as hostess of a mission house.
After the Chinese communists released CIM missionary Alfred Bosshardt after two months in captivity, Grace recorded his story. She stayed with Roxie Fraser after her husband, CIM field superintendent James Fraser, died of malaria. That characteristically quiet service is reflected in the title of this book.
An extended visit for dental work gave Grace the opportunity to meet fellow CIM missionary Eric Cox, a former British Merchant Navy officer. Although Eric was smitten, Grace "climbed into love." Three days after they married in 1940, Japanese bombs exploded around them. The following year they grabbed a few nappies (diapers) and seven-month-old Miriam to escape to safety. Their son Philip was born on their third anniversary. Eric's severe back problems brought the family to Iowa, where another son was born. Before their fifth anniversary, they received the devastating news that Grace, at thirty-nine, had a malignant tumor. Grace's faith is revealed in a letter to her mother, "How sweet to be given the grace at all times to say, Thy will be done."
While this story has tension-filled moments, what kept this reader turning pages was Grace's wonderful example of faith and godliness, from her early years until she was received in glory. When I finally put the book down, I missed my precious time with Grace.