Reviews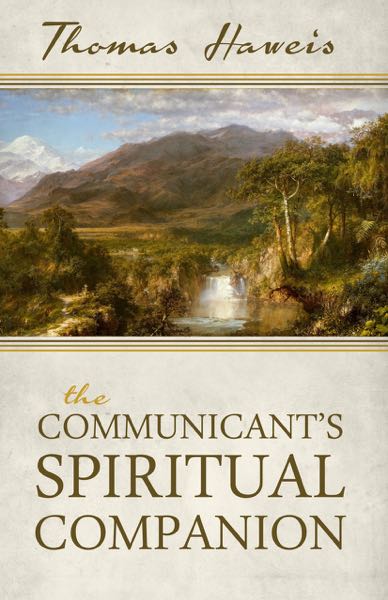 The Communicant's Spiritual Companion
Thomas Haweis
Reviewed by: J. V. Fesko
Date posted: 06/26/2016
The Communicant's Spiritual Companion, by Thomas Haweis (1764); Reformation Heritage Books, 2015. Paperback, 132 pages, list price $14.00. Reviewed by OP minister and seminary professor J. V. Fesko.
Preparing to take the Lord's Supper is an important aspect of the Christian life, but I suspect that many Christians are at a loss as to how to prepare for it. What should they think, pray, or meditate upon as they anticipate taking the Supper? Reformation Heritage Books has republished a little devotional book written by eighteenth-century Anglican minister Thomas Haweis (pronounced Haws). In this book, Haweis presents seven brief chapters, ranging from the nature of a sacrament to the different ways people should prepare to take the Supper. The original context for this book was a Sunday afternoon series of catechetical lectures for congregants, so the book is aimed at the average person, which makes it readable and easily accessible to most in the church.
The book's strengths lie in the depths to which Haweis treats the Supper. He offers a chapter, for example, on the nature of the invitation to the sacred meal. How can Christians neglect an invitation from Christ to sit and share a meal at his table (p. 23)? He also offers thoughtful reflection on how Christians should conduct their self-examination. He encourages the reader to mediate upon the grace of forgiveness in Christ, which should impact our comportment towards others (p. 52). In subsequent chapters, Haweis provides suggestions for thoughts during the administration of the Supper and then offers counsel for our conduct after we have received it. There is also a chapter with suggested forms for praying about pride, lust, guilt, temptations, affliction, love for God, charity, fear, humility, and so on. The book closes with a number of edifying meditations on various passages of Scripture.
Such a book can be useful and helpful for Christians who sometimes find themselves at a loss for words or thoughts regarding the Supper. Or perhaps some might find themselves in a rut and go through the same routine before and after the Supper.
I think two caveats are in order, however. First, readers should not take Haweis's book as a list of things that a person should do each and every time he approaches the table. Haweis specifically warns against this (p. 55). Rather, this book is a guide and offers counsel, not binding prescriptions. Second, I get the impression that Haweis's church observed the Supper infrequently (quarterly or biannually), which would undoubtedly have led people to make more of their preparation. For Christians who participate in weekly communion, the counsel offered in this book might seem like a tall order. Once again, taken in small bites, this book can offer anyone edifying material for meditation and preparation.
This book was a favorite of former Westminster Seminary California president Robert G. den Dulk. He would undoubtedly be pleased that it has been republished and humbled to know it has been dedicated to his memory.