Reviews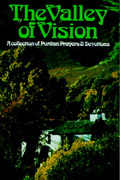 The Valley of Vision: A Collection of Puritan Prayers & Devotions
Arthur Bennett, Ed.
Reviewed by: William Shishko
Date posted: 04/30/2006
The Valley Of Vision: A Collection of Puritan Prayers & Devotions, edited by Arthur Bennett. Published by Banner of Truth, 2002. Leather, 405 pages, list price $24.99. Reviewed by OP pastor William Shishko.
Some years ago a member of Franklin Square (N.Y.) OPC was rooming at a Ligonier conference with a discouraged minister. The minister saw my friend's copy of this book and asked to borrow it. The next morning my friend awakened early and saw the minister at his desk, hunched over the book, together with his Bible. Tears were rolling down his cheek. "That little book is gold, pure gold," said the minister.
The Valley of Vision is, in my opinion, the finest devotional volume available in the English language. The thoughts behind these prayers come from such men as Richard Baxter, John Bunyan, Thomas Watson, Isaac Watts, and even Charles Spurgeon, but their wording is from Canon Arthur Bennett. It is both easy and delightful to make them our own.
Under such themes as "Father, Son, and Holy Spirit," "Redemption and Reconciliation," "Needs and Devotions," and "Gifts of Grace," the various prayers provide a refreshing, God-centered array of doxologies, confessions, supplications, and entreaties. Unlike the content of some devotional volumes, this material is never saccharine or mystical. Throughout, the prayers teem with devotional expressions that grow out of biblical doctrine as appropriated by the heart of a humble believer.
Ministers will particularly appreciate the various prayers under the heading "Service and Ministry." Many of the prayers are ideal to help ministers get out of their particular ruts as they lead their congregations before the throne of grace in corporate worship. One suspects that editor Bennett would not be at all upset if his written appeals to God as inspired by others became the inspiration for similar appeals used publicly by his fellow ministers!
The original paperback edition (1975) soon wore out from use. Acting upon suggestions from fans of this special devotional aid, Banner of Truth has now published it in a handy bonded leather edition. This makes it an ideal gift to give to others. We give it to new church members. The value of this book to "prime the pump" for secret worship and as an aid to heads of homes in family worship can hardly be overstated.
The book is gold! Pure gold!