Reviews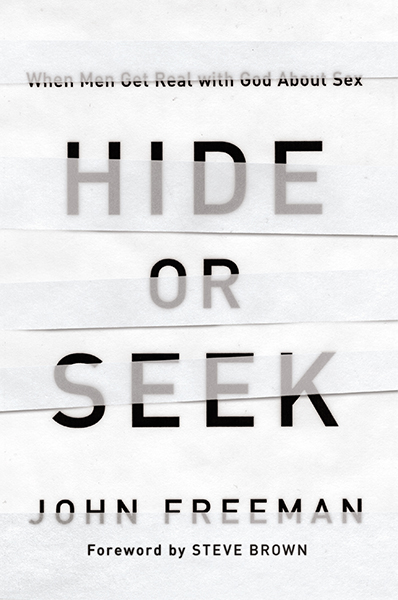 Hide or Seek: When Men Get Real with God about Sex
John Freeman
Reviewed by: A. Craig Troxel
Date posted: 08/28/2016
Hide or Seek: When Men Get Real with God about Sex, by John Freeman. New Growth Press, 2014. Paperback, 144 pages, list price $17.99. Reviewed by OP pastor A. Craig Troxel.
There is nothing simplistic about this book. Complicated problems are not trivialized. Sins are not stereotyped or understated, and superficial solutions are not offered. John Freeman gives us realism, stemming from thirty years of dealing with men who have grappled with various forms of sexual brokenness. Descriptions are sketched out in edgy clarity (e.g., pornography statistics).
Any man who deals with sexual temptation (and what man doesn't?) will find himself in this book. Christian men know that preserving sexual purity is like trying to stay healthy during an epidemic. And when they fail in their efforts, the one thing they would never, ever dream of doing is talking about it, especially at church. This is not just a problem. This is our problem.
John Freeman has been working with men who know the struggle of sexual temptation and sin, and the pain of sexual brokenness, especially the overwhelming feeling of fighting a losing battle. Whether their conflict is with lustful thoughts, pornography, or same-sex attraction, many Christian men feel helpless under the siege of seemingly irresistible temptations. Such men often lose hope in the power of the gospel for real change, and they become increasingly skeptical that God's forgiveness will last much longer.
If such patterns of failure continue, Freeman observes, these men become "God-haters"—taking out their anger on others, themselves, and God. Secondly, they become "idol-makers"—giving their hearts to the false promises of a counterfeit love. Thirdly, they become "game-players"—trying to manage a hidden life at odds with their outward Christian mask. Meanwhile their corroded heart whittles away at their confidence, crippling their spiritual effectiveness. Freeman connects the dots between what a man thinks is unseen and what inevitably seeps into the rest of his life. King David once thought similarly.
This is where the light of gospel enters, exposing the lies of sexual failure and illuminating the truth that God has not left us powerless. His grace is sufficient for forgiveness and transformation. It nurtures repentance and emboldens our faith that would claim the greatness of God's love in Christ, so that we stop hiding our sin and start seeking God's help, with genuine integrity and transparency.
There are a few weaknesses in this book. I expected a discussion of hypocrisy in the section on "game-players." More could have been said on the infusions of sanctifying grace that the Spirit applies through the means of grace.
As for strengths, Freeman refuses to serve up sugarcoated sentimentalism. Rather, he candidly (but not too graphically) discusses sexual sin and diagnoses lust. Freeman wisely emphasizes Christian community. This book is a good word—an accessible, healthy, and encouraging word—especially on Christ's power in us. It is always heartwarming to hear that Christ "is able to do far more abundantly than all that we ask or think, according to the power at work within us."
Highly recommended.