Reviews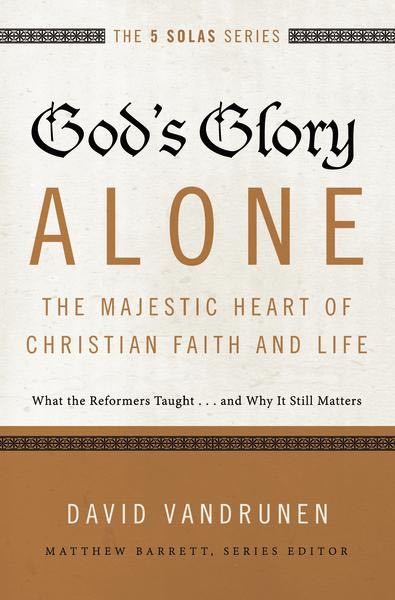 God's Glory Alone
David VanDrunen
Reviewed by: Geoff Downey
Date posted: 11/13/2016
God's Glory Alone, by David VanDrunen. Zondervan, 2015. Paperback, 192 pages, list price 16.99. Reviewed by OP pastor Geoff Downey.
"One never comes to the end of catechizing oneself." I don't know who first said this, if anyone, but I think it's true. I'll attribute it to Socrates: "Catechize thyself."
David VanDrunen's new book is the second in the Five Solas series being published from 2015 to 2017 by Zondervan. Although it may be disappointing to discover that the magisterial Reformers never used these titles, we do find them helpful to organize our thinking about the essential matters of debate since the Protestant Reformation.
VanDrunen expounds this "sola" (soli Deo gloria) in Reformed theology and in Scripture, and then helps us to see how to live for God's glory today. For a fairly short book, this one is rich with Scripture, confessional theology, and even some historical theology for good measure. The author even engages our theology practically as we consider living to God's glory in our Bible study, in prayer, and in our suffering.
There is more than enough material here for extended reflection, despite, as he reminds us, the allure of all things immediate in a distracted age. He does a fine job of giving a wide swath of material to reflect upon in just eight chapters. This book will really help those who want both a primer on the subject and grist for Sunday school, a reading group, or another forum for extended study and discussion.
If you are familiar with VanDrunen's writing, you know to expect clear and logical thinking. But this work, perhaps because he is away from his main areas of research and writing, offers many artful turns of phrase. Highlighting a subtheme throughout the book is this beautiful sentence: "The way of God's glory winds through the lowliness of and desolation of Calvary." Keeping our eyes fixed upon the theology of the cross, and avoiding a theology of glory, leads to this artful line: "When we open Scripture and learn that we are lost sinners, and that a God of wrath and judgment stands against us, the theology of glory becomes but a dream extinguished by Scripture's dawn." This is elegant writing, infused with truth, enrapturing both heart and mind.
One warning about the "catechetical" quality of the book: some phrases may seem clunky due to the proof texting or citation of Scripture, confession, or some scholar. Do not let this slow you down; just follow the flow of thought, and you'll be glad you did. The book is worth the price alone for the center section on God's glory in Scripture.
Next year we mark the five hundredth anniversary of the Reformation. If the five solas are not brought to the foreground, they should be. VanDrunen's book has accomplished one-fifth of this catechetical equation for us; the book does a fine job of helping us worship with both heart and mind.