Reviews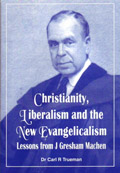 Christianity, Liberalism, and the New Evangelicalism: Lessons from J. Gresham Machen
Carl R. Trueman
Reviewed by: Barry Waugh
Date posted: 05/14/2006
Christianity, Liberalism, and the New Evangelicalism: Lessons from J. Gresham Machen, by Carl R. Trueman. Published by Onesemus Books, Evangelical Library West, Bristol, 2002. Paperback, 34 pages. Sold by the Westminster (Philadelphia) bookstore for about $4.00. Reviewed by Barry Waugh, PCA minister.
J. Gresham Machen's book Christianity and Liberalism exposed the errors of ecclesiastical liberalism in his day. Professor Trueman's booklet shows that the same liberalism may be knocking at the door of evangelicalism today.
For liberals, Jesus was the best model for living a good life. Certainly, says Trueman, Christians do follow Jesus' example. But one must also grasp his divinity. The What Would Jesus Do? movement errs by emphasizing his humanity at the expense of his divinity. Also, contends Trueman, evangelicals sometimes view worship as sitting down to afternoon tea with a friend rather than entering the awe-inspiring presence of God.
Trueman also discusses the necessity of correct doctrine, of biblical preaching, of understanding who Jesus is in order to have faith in him, and for Christians to obey the Bible. All of his observations are presented sensitively; he does not blast evangelicals as insensitive to the inroads of liberalism, but cautiously warns that liberals may be at the gate.
Professor Trueman's booklet is a helpful perspective on Dr. Machen's classic book, and his application of Christianity and Liberalism to contemporary evangelicalism is thought provoking. Resources for further study are provided in footnotes.