Reviews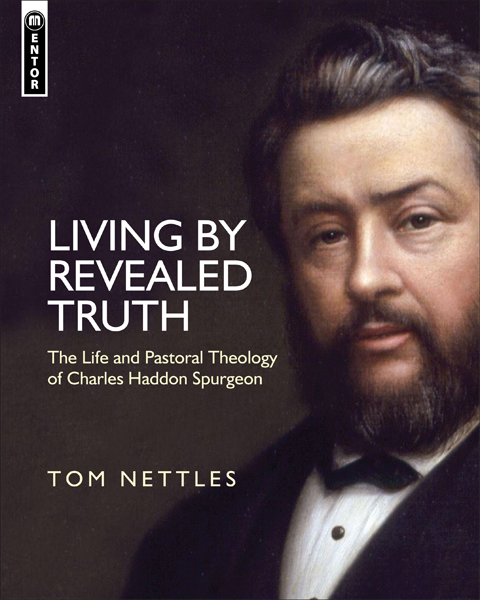 Living by Revealed Truth: The Life and Pastoral Theology of Charles Haddon Spurgeon
Tom Nettles
Reviewed by: Alan Pontier
Date posted: 12/25/2016
Living by Revealed Truth: The Life and Pastoral Theology of Charles Haddon Spurgeon, by Tom Nettles. Mentor (Christian Focus), 2013. Hardback, 700 pages, list price $49.99. Reviewed by OP minister Alan Pontier.
As the title suggests, this massively researched biography of Charles Haddon Spurgeon is more than a biography. It is also an examination of how Spurgeon's foundational adherence to the doctrine of the plenary inspiration of the Scriptures, along with the attendant doctrines of inerrancy and sufficiency, guided every aspect of his life and ministry. Spurgeon himself would have said that his constant aim was to win souls to God by preaching Christ crucified and risen, but what he proclaimed about Christ was only and always what was revealed in Scripture.
An irony of Spurgeon's life is that this biological heir of nonconformist ministers and theological heir of the Puritans became a vehement defender of the doctrine of "believer's baptism." Yet while we would disagree with Spurgeon on that point, we admit that his zeal for credobaptism was based on the conviction that it was the teaching of Scripture.
Spurgeon was born in 1834 and died in 1892. His all-too-brief lifespan is lovingly chronicled by Nettles, who allows us to watch as Spurgeon learns the Reformed faith at his grandfather's knee, finds the riches of Puritan thought in his grandfather's library, is converted, begins as a teenager to preach in a small church, quickly gains a reputation as a preaching prodigy and is called to the New Park Street pulpit, and moves into the Metropolitan Tabernacle, where he carries on his ministry until his death.
We all know that Spurgeon was a world-renowned preacher. Most of us have read several of his sermons. What we may not know is that he also edited those sermons for weekly publication, edited Sword and Trowel magazine, and wrote numerous books on theological, evangelistic, and biblical themes, He founded the Pastor's College, where he taught hundreds of young men preparing for the ministry. He founded numerous orphanages and schools, and was active in the Baptist Union until he resigned from it, due to its theological decline. Even here we have mentioned only a few of the endeavors of Spurgeon. It is enough to show that he was uniquely gifted for a multifaceted ministry that had and continues to have a global influence.
The chapter on the Downgrade tells how Spurgeon faced the advance of liberalism, and fought it tooth and nail. Ultimately, he was censured by the Baptist Union and resigned from it. His experiences in this controversy were much the same as those that J. Gresham Machen would undergo some thirty years later.
The publication of Nettles's biography is also of interest as an event in the revival of Calvinistic soteriology in Southern Baptist circles.
Living by Revealed Truth is not an easy read. However, it is well worth the investment of time and effort to explore the life and work of the Prince of Preachers.