Reviews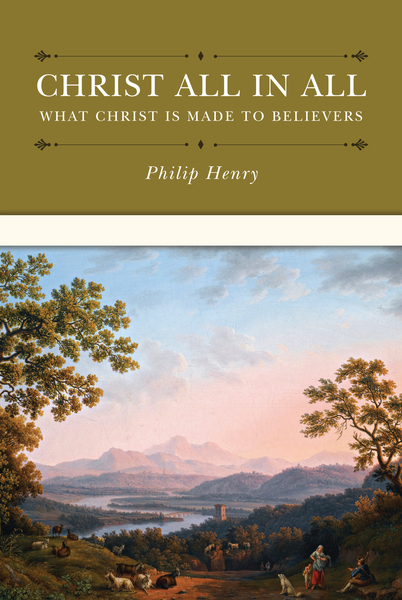 Christ All in All: What Christ Is Made to Believers
Philip Henry
Reviewed by: Ryan M. McGraw
Date posted: 08/27/2017
Christ All in All: What Christ Is Made to Believers, by Philip Henry. Reformation Heritage Books, 2016. Hardback, 384 pages, list price $28.00. Reviewed by OP minister and professor Ryan M. McGraw.
What is the gospel? Is it good news? Is it justification by faith alone? Is it renewal in God's image? Is it deliverance from sin and evil? The gospel is all these things to some extent, but ultimately it is Jesus Christ himself, and he must be our all in all. In Christ, we are justified, adopted, sanctified, and glorified. Christ is the husband whom believers receive through marriage and, with him, they receive all that is his. Yet as a husband is more than his riches to a loving wife, so Christ is more than his gifts to believers.
This truth highlights a crisis in the church today, even as it stirs the hearts of true believers. The church needs to recover the glory of the Savior as the heart of the gospel. Yet every true Christian resonates with the title of Philip Henry's book without being told that they need to. This book, written by the father of the famous commentator Matthew Henry, shows why Christ is all in all in forty-one meditations. These meditations are simple and clear, and will help all Christians to meditate on Christ's glory for the good of their souls.
The chapters present Henry's sermons on this subject in abbreviated form. While this makes the style a bit choppy and uneven at points, the content is clear and easy to follow. Henry's meditations on Christ are not as profound and thought provoking as the more famous treatments of John Owen, Thomas Goodwin, Isaac Ambrose, or Samuel Rutherford. Henry's strength lies primarily in the simplicity of his thoughts. Sometimes the primary value of a book like this one is that it makes us stop and think about Jesus, and, in thinking upon him, to know and love him better.
Read Christ All in All to lead your thoughts in the right direction and to keep Christ at the center of your faith and life.