Reviews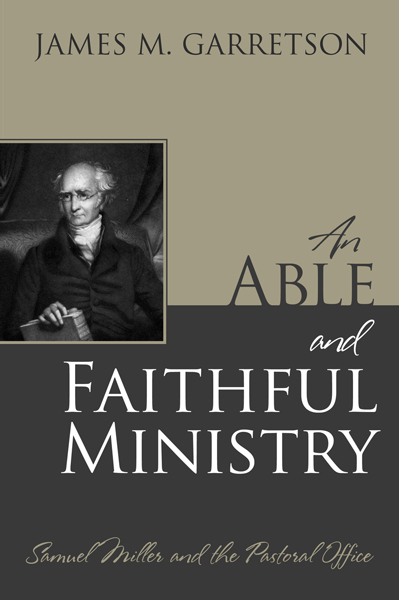 An Able and Faithful Ministry: Samuel Miller and the Pastoral Office
James M. Garretson
Reviewed by: Shane Lems
Date posted: 11/12/2017
An Able and Faithful Ministry: Samuel Miller and the Pastoral Office, by James M. Garretson. Reformation Heritage Books, 2014. Hardback, 425 pages, list price $35.00. Reviewed by OP pastor Shane Lems.
To learn about the lives of God's servants who have gone before us is often an edifying lesson. The "faith of our fathers" is an old teacher that can give great instruction to Christians in the present. This certainly applies to the life and ministry of Samuel Miller, a Presbyterian pastor and professor at Princeton Theological Seminary in the early nineteenth century. In An Able and Faithful Ministry, James Garretson has done the church a favor by capturing the essence of Miller's pastoral ministry—a ministry that was full of godly wisdom, piety, and instruction.
The book has four main parts. In the first part, Garretson summarizes Miller's life, his pulpit ministry, and his work as a seminary professor. In the second part, the book gives more details on Miller's teaching, including chapters on the importance of a pastor's studies, the various aspects of writing and preaching a sermon, notes on public worship, and so on. The last two, shorter parts discuss the manners and habits of a pastor and Miller's legacy.
Garretson's biography of Miller's life and ministry is a big help for pastors and elders. I read this book because I continually need pastoral guidance in my own ministry. I also read this book because I was interested in Miller's comments on sermons, preaching, and application. The book did not disappoint! Many of Miller's insights on these topics are immensely helpful, especially his advice to seminary students (which also apply to pastors). Elders too can benefit from parts of Garretson's book, such as his notes on public worship and his advice on the godly habits and manners of the pastor (which applies to elders as well). Laypeople might also be interested in these things, along with the Presbyterian history in the book.
No matter who is reading this book, he or she will grow from hearing about Miller's emphasis on the gospel and his clear teaching on the necessity of solid doctrine and godly living. Another lesson that every reader will learn from this book is what it means to be an obedient servant of Christ. As Miller said, "I will go wherever the great Head of the Church, in his infinite wisdom may send me, and will labour, to the extent of my opportunity and ability, to be prepared for any place." Miller was a servant of Christ. His life and ministry are examples of Christian service, and this book is a fine teacher to that end.