Reviews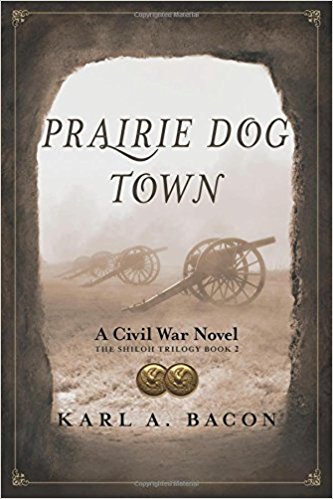 Prairie Dog Town: A Civil War Novel
Karl A. Bacon
Reviewed by: Richard R. Gerber
Date posted: 12/10/2017
Prairie Dog Town: A Civil War Novel, by Karl A. Bacon. Historical Chronicles Press, 2016. Paperback, 349 pages, list price $12.99. Kindle available. Reviewed by OP minister Richard R. Gerber.
Stanley Mitchell is a Union soldier living in and moving about the South as the Civil War continues. He was grievously wounded in the Battle of Shiloh and nursed back to health by a Southern family that lost a son in that battle and a husband in an earlier engagement.
Karl Bacon is a good storyteller. Through Stanley's experiences, he shows us more of the civilian side of the war. We learn about life on a Mississippi riverboat and the war on the Mississippi River. We see the aftermath of Southern plantations having been pillaged. The plight of the Negro slaves in a crumbling South and the siege of Vicksburg are part of the story.
Stanley's new faith in Christ is tested. His love for the country girl with long, honey-colored hair is challenged by an attractive young widow.
The richness of the varied characters, the unexpected twists in the story line, and the personal challenges faced to survive the war keep the reader wanting to come back to the story. I had an enjoyable time reading Prairie Dog Town twice.
This book is suitable for middle and high schoolers, as well as adults. It could fit into a homeschool curriculum in either history or social studies.
The author serves as a ruling elder at Westminster OPC in Hamden, Connecticut. From his youth, he has been a serious student of the Civil War. Meticulous, detailed research, extensive reading, and visits to the sites referred to in each book lie behind his writing.
Prairie Dog Town is Book 2 in The Shiloh Trilogy. It won the Selah Award for Historical Fiction and the Director's Choice Award for Fiction at the 2017 Blue Ridge Mountains Christian Writers Conference. You might want to start with Book 1, Until Shiloh Comes. Book 3, The Gates of Sheol, is scheduled for release this fall.