Reviews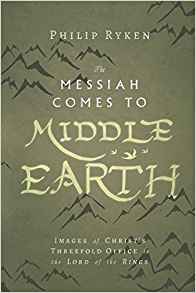 The Messiah Comes to Middle Earth: Images of Christ's Threefold Office in the Lord of the Rings
Philip Ryken
Reviewed by: Jeremiah Montgomery
Date posted: 06/10/2018
The Messiah Comes to Middle Earth: Images of Christ's Threefold Office in the Lord of the Rings, by Philip Ryken. InterVarsity, 2017. Paperback, 136 pages, $10.32 (Amazon). Reviewed by OP minister Jeremiah Montgomery.
More than a decade ago, I visited the Wade Center at Wheaton College, which houses a special collection of papers and memorabilia from seven British authors: C. S. Lewis, J. R. R. Tolkien, Dorothy L. Sayers, George MacDonald, G. K. Chesterton, Charles Williams, and Owen Barfield. The Messiah Comes to Middle Earth contains the inaugural lectures of the Hansen Lectureship Series, which was established to "explore the great literature of the seven Wade authors" (xi).
Author Philip Ryken's thesis in this book is straightforward: "There are really three main Christ figures in The Lord of the Rings, and each one echoes a different aspect of the work of Christ—what theologians call his 'threefold office' as prophet, priest, and king" (3). To establish this thesis, Ryken systematically exegetes the story's text. He supports his conclusions with citations from The Silmarillion (the story's crucially important prequel), Tolkien's letters, and a wide array of secondary literature.
Gandalf the Grey embodies the image of Christ's prophetic work. "For all his miraculous powers, the wizard's prophetic influence lay chiefly in the domain of wisdom. Gandalf shaped the affairs of Middle-earth by the power of his words" (12). Though in reality an incarnate angel, Gandalf never used his power to coerce. Applying this image, Ryken reminds those in authority that "one of the rules for us is not to make decisions for other people or manipulate them" (32).
The hobbits, especially Frodo Baggins, embody the image of Christ's priestly work. Hobbits are a people "rustic, not to mention diminutive … easily overlooked" (52). "Yet for all their apparent weakness, the hobbits are faithful in their service and prove to have surprising strength" (53). More particularly, by volunteering to bear the dark burden of the One Ring from the pleasant gardens of Rivendell to the lifeless heights of Mount Doom, Frodo and his servant, Samwise Gamgee, poignantly depict the personal self-sacrifice of Christ.
Applying this image, Ryken reminds us that "we begin to become heroes simply by being friends" (68) and that all Christians "are called to serve and to sacrifice, through a ministry of presence and through prayer" (76). This section also includes an intriguing exploration of Frodo's apparent "failure" at the story's climax (65–66).
Finally, Aragorn son of Arathorn embodies the image of Christ's kingly work. Though initially appearing in the story as a humble Ranger with an understated ability to heal others, Aragorn grows in stature and renown as the story progresses. In his coronation near the story's end, we are presented with an image of "an eschatological celebration of an enduring kingdom … 'in a great city, one with mighty walls, a river, and the Tree of Life' " (111–12).
What would Tolkien say about Ryken's analysis? The author of The Lord of the Rings was known to have little love for allegory. Yet as his story gained more currency, many readers began to see images such as those Ryken explores in this book. When the question was put to him, in a 1966 letter, whether this sort of analysis was valid, Tolkien responded as follows: "Much of this is true enough, except, of course, the general impression given … that I had any such 'schema' in my conscious mind before or during the writing" (46). Tolkien did not set out to write a Christian allegory. But he knew Christ—and that knowledge permeated his literature.