Reviews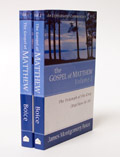 The Gospel of Matthew: An Expositional Commentary
James Montgomery Boice
Reviewed by: Eric Watkins
Date posted: 07/07/2006
The Gospel of Matthew: An Expositional Commentary, by James Montgomery Boice. Published by Baker, 2001. Hardback, two volumes, 676 pages, list price $34.97. Reviewed by Eric Watkins, associate pastor of Lake Sherwood OPC in Orlando, Fla.
The late Dr. Boice's reputation for being a faithful, Reformed bulwark proves true in this expository set. His style is unusually easy to follow, due to the fact that it lacks excessive attention to technical details. There are no Greek or Hebrew words to translate or esoteric theological terms to decipher.
In good Puritan fashion, the structure moves from exegesis to doctrine to application. Boice's comments are often insightful, addressing common concerns and interpretive difficulties. He frequently quotes cross-references and parallel texts, and tries to develop a harmony of the gospels. Frequent use is made of commentators from various traditions.
Boice's style is not only easy to read, but also warm and devotional. Stories and personal experience are woven in, and nearly every section ends with a call to repentance and faith. The whole commentary is filled with appeals to the unbeliever to profess Christ as Savior and to the believer to submit to the lordship of Christ.
Due to the popular nature of the commentary, it sometimes lacks deeply penetrating exegesis or the development of biblical-theological themes. This should not rule out using the set, however, as Boice proves to be as faithful an exegete as he was a minister.