Reviews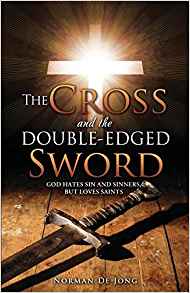 The Cross and the Double-Edged Sword: God Hates Sin and Sinners, but Loves Saints
Norman De Jong
Reviewed by: Peter J. Moelker
Date posted: 09/30/2018
The Cross and the Double-Edged Sword: God Hates Sin and Sinners, but Loves Saints, by Norman De Jong. Xulon, 2017. Paperback, 164 pages, $14.49. Reviewed by OP pastor Peter J. Moelker.
The primary purpose of this book, as stated by the author, is "to search the Scriptures for pictures of Jesus Christ, both in the Old and the New Testaments" (2) and, in particular, to give attention to what De Jong believes to be an often neglected image, that of Jesus as a "doubled-edged sword." This concern arose out of a study of the Book of Revelation. Though the Scripture never attributes such an image to the person of Jesus but rather to the possession of Jesus, the concern of the author is more focused on what this image, along with the cross, represents—both the saving love of God towards his people and the holy wrath of God towards unrepentant sinners, the latter being the main theme of the book. "The cross, like the double-edged sword, cuts two ways" (11).
Because this image has been neglected, the author argues, our contemporary evangelical community "readily proclaims the love of Christ, while failing to recognize the justice and holiness of God. Love is popular, but wrath is ugly, ignored, and often condemned" (6). As a result, the double-edged sword of the gospel is often dulled on one side.
Too many churches, says De Jong, proclaim "God loves you," but does Jesus really love sinners? "If God hates sinners, should we then not also hate sinners?" (51). The end of the book strikes a different chord, however, when he takes up the question of whether or not God, in any sense, loved Pharaoh. "Did God love Pharaoh? Did God express a deep-seated concern for his temporal and eternal welfare? The answer has to be a resounding 'Yes'!" (120). This book seems to be motivated by the genuine and commendable desire to alert the church to the need to not be ashamed of the doctrine of God's wrath and of God's holy hatred of sin. De Jong clarifies that indeed "God loves the creatures, the persons, and the world that He has created" (122), but a clearer distinction of the various ways the Scripture speaks of the love of God would have been helpful.