Reviews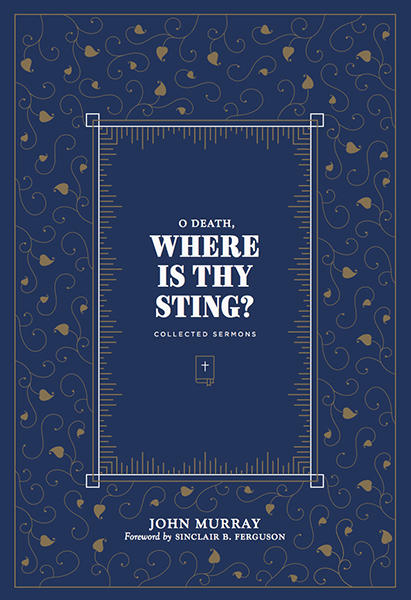 O Death, Where Is Thy Sting?
John Murray
Reviewed by: Arthur J. Fox
Date posted: 10/21/2018
O Death, Where Is Thy Sting? by John Murray. Westminster Seminary Press, 2017. Hardcover, 320 pages, $22.50. Reviewed by OP pastor Arthur J. Fox.
This book is a collection of sermons by Professor John Murray, the most esteemed professor of systematic theology during the formative years of Westminster Theological Seminary. It is almost impossible to adequately recommend this book. In the introduction, Scott Oliphint, one of Murray's successors, notes that, "What must be highlighted here … is that Murray was, throughout his adult life, bathed in the system of theology that finds its home in the Reformation" (xxxi). This gives us a clue as to how we who preach or teach the Reformed faith might grow to maturity in Christ as Murray did: Let the message of the gospel have its full effect on our hearts so that we will, as another once put it, "Let the flag of the Reformed faith fly high." The Reformed faith is a life commitment that cannot do its work without a heart committed to it.
This volume contains fifteen eloquent gospel sermons and one charge to Dr. Edmund Clowney upon his installation as professor of practical theology, a position in which his specialty was to be homiletics. These sermons are full of grace and the gospel. They reflect the life of the preacher in that he was full of love for Christ and his gospel and for the people of God to whom he preached. The portrait (not included) that covered Murray's collected works depicts a man with a solemn demeanor, but these sermons depict a man who rejoiced in his Savior and God and the privilege of preaching his Word. He clearly loved the congregations he preached to. As a result, when we read these transcripts, we cannot help sensing that love and joy, almost coming to feel that he would rejoice in our reading these sermons, and would plead with God to bring us afresh to the Christ he loved.
There is a fabulous bonus in almost every transcript here. Those who assembled this collection also blessed us with transcripts of John Murray's prayers! They make for powerful reading. I found myself hoping that I could learn how to pray from this godly minister. For this gift to the church, I am thankful to Westminster Seminary Press and to John Murray's son, Dr. Logan Murray, who granted Westminster permission to publish this material.