Reviews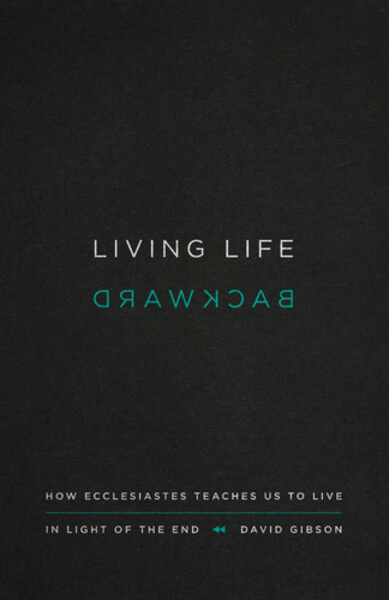 Living Life Backward: How Ecclesiastes Teaches Us to Live in Light of the End
David Gibson
Reviewed by: Stephen J. Oharek
Date posted: 10/28/2018
Living Life Backward: How Ecclesiastes Teaches Us to Live in Light of the End, by David Gibson. Crossway, 2017. Paperback, 176 pages, $13.90 (Amazon). Reviewed by OP pastor Stephen J. Oharek.
Ours is a culture in which many efforts are made to insulate us from the reality of death. Cemeteries are mostly out of sight, and even churches can be reluctant to openly address issues of death and dying. This is part of what makes Living Life Backward such a valuable contribution from author David Gibson, who says he is "convinced that only a proper perspective on death provides the true perspective on life" (11). This insight, Gibson explains, is at the heart of the teaching of Ecclesiastes.
Living Life Backward is one of the best books I have read in a long time, and it is the best book I have ever read on Ecclesiastes. There are two primary reasons for this.
First, Gibson interprets Ecclesiastes as a consistent stream of positive wisdom. Often, Ecclesiastes is interpreted as a mixture of wisdom and folly that the reader must sort through. As when reading through the alleged wisdom of Job's friends, the discerning reader of Ecclesiastes must consider the various teachings from "the Preacher" (the author, Eccles. 1:1) and determine in which passages he was experimenting with hedonism or nihilism, and in which passages he had come to his senses and was then faithful to God. However, Gibson takes the approach that all of the book is true and wise, and that the Preacher remained "upright" throughout (Eccles. 12:10). Gibson does not cover every chapter and verse in Ecclesiastes, but he does provide excellent explanations of most of it, showing how the laments and joys of the Preacher are simply honest, godly responses to living in a broken, sin-stained world.
The second exemplary feature of Living Life Backward is the attention it gives to living life in light of death. Gibson notes key themes in Ecclesiastes that relate to this, such as godly enjoyment of the pleasures God gives to his children here, honest bereavement of the losses we suffer during this journey, and reckoning with the impermanence of our achievements. Some readers may find Gibson's words jarring, as he is often brutally honest about the certainty of death—for example, one chapter is titled "One Foot in the Grave"! Having just recently completed an adult Sunday school series on death and dying, I believe that directly addressing the reality of our own mortality is something that, frankly, most of us could use more of. Gibson, a pastor himself, does exactly this. And as he teaches in his book, the Preacher in Ecclesiastes did it first!
Living Life Backward is divided into ten chapters. The "Questions for Discussion or Personal Reflection" at the end of each chapter make it ideal for a group study, though individuals will be blessed and challenged by it as well. Although it is not a scholarly commentary, I would also highly recommend this book to any preacher or teacher who is planning to tackle Ecclesiastes.
Copyright © 2020, The Orthodox Presbyterian Church. All Rights Reserved.